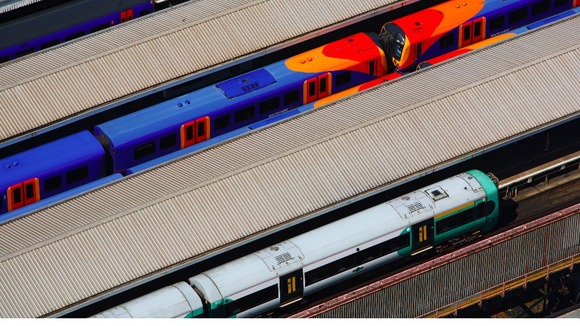 Rail commuters could face ticket price increases of almost 6 per cent in January, according to figures from consumer group, Passenger Focus.
An annual ticket from Canterbury in Kent to London will be going up from £4,588 to £4,860 - a 5.9 per cent rise. People wanting season tickets from Tonbridge to London - will face a 5.2 per cent rise from January , with their fare going up to £3,796.
Regulated fares, which include season tickets, will rise by an average of 4.2 per cent from January. The price rises could have been greater but Government intervened.
Train companies have some leeway to raise some season tickets above the 4.2 per cent limit, as long as the average increase on their trains is no more than 4.2 per cent.
Passenger Focus said that it appeared that train companies were exercising restraint but added that the price rises will still feel steep in some places.
Passengers will feel this pain. After years of above-inflation fare rises, fresh increases are piling pressure on already high fares. The Government and the rail industry must now work together to deliver on the welcome promise to get fare rises in line with inflation."
– Anthony Smith, chief executive, Passenger Focus

Regulated fares account for around 40 per cent of total fares. Train companies can raise non-regulated fares by as much as they like. Details of all fare rises are expected in the coming days.
It is the Government, not train companies, that decides how much season tickets should rise on average each year. Successive governments have instructed train companies every year to increase these regulated fares on average by more than inflation.

In doing so, ministers have been seeking to cut the contribution from taxpayers towards the running costs of the railway and increase the share that comes from passengers."
– Statement from the Association of Train Operating Companies
Family budgets are being squeezed, so that is why this Coalition Government has taken pro-active steps to cut the planned fare rises from 3 per cent to 1 per cent above inflation until 2014. This decision puts an average of £45 per year back into the pockets of over a quarter of a million annual season ticket holders. Many more holders of weekly and monthly season tickets could also see lower fare rises and some commuters could be over £100 better off.

"It is misleading to search for the highest increase and then imply that represents the average, as some I am afraid will do. It's worth noting that some fares, such as the season ticket from Shenfield to London, are actually going down."
– Rail Minster Norman Baker

Price rises in our region include the following tickets:

Gillingham-London rising to £3,672

Canterbury-London rising to £4,860

Tonbridge-London rising to £3,796

Guildford-London rising to £3,224

Portsmouth-London rising to £4,668

Bournemouth-London rising to £5,988

Reading-London rising to £3,960

Oxford-London rising to £4,532

Hove-London (Victoria) rising to £3,860

Eastbourne-London (Victoria) rising to £4,228