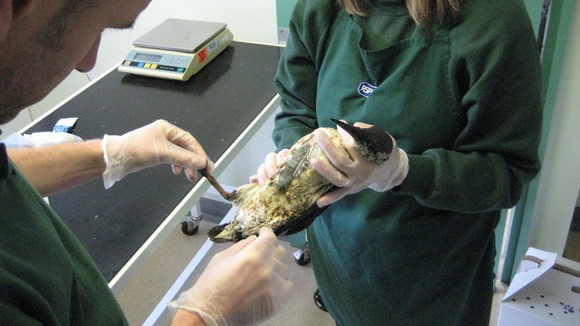 A change in wind direction could have killed thousands more birds after scores were found washed ashore along England's south coast and covered in an oily substance. Experts believe many birds could have been blown out to sea with winds coming from the north in an off-shore direction yesterday, leading to yet more fatalities as they become cold and exhausted.
But winds coming from the south and west today could bring even more dead birds ashore. Hundreds of seabirds have died and thousands more have been washed up between West Sussex to Cornwall after being covered in the mystery sticky substance.
A change in the wind has limited the numbers of birds being washed ashore. The north-west offshore wind is now blowing many seabirds out to sea which will limit the rescuers' ability to recover the affected victims. This will also increase the overall number of fatalities.
– Emma Rance, marine conservation officer for Dorset Wildlife Trust

But that wind will change direction throughout today, moving to come from the south, and so could bring ashore the bodies of birds that have died from the cold and exhaustion. In recent days wildlife experts and volunteers have raced to the shoreline to save as many birds as possible.

More than 250 birds, mostly guillemots and about 17 razorbills, are now being treated at the RSPCA West Hatch centre near Taunton, Somerset.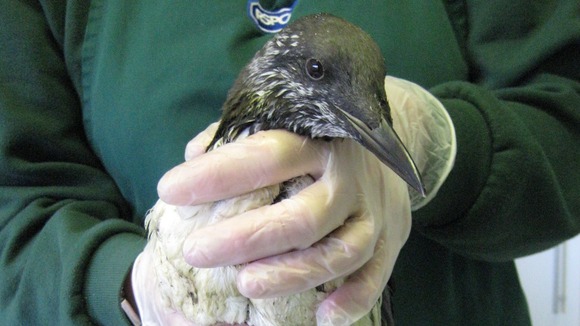 It is still early days and hard to say how the birds will survive in the long-term. We don't know what this substance is or what it might be doing to the birds, but we can say the margarine does seem to remove it and we are doing all we possibly can to give them the best chance we can of survival."
– Peter Venn, manager of RSPCA West Hatch

The society said the vast majority of the sea birds were rescued from Chesil Beach in Dorset but others have come from the Isle of Wight and Cornwall. West Hatch staff first tried to clean the birds with normal soapy water, which was not successful in removing the sticky substance. Wildlife assistants then had more success removing the sticky gloop after they cleaned them with Stork margarine.

Scientists from the Environment Agency identified the mystery substance as a refined mineral oil, but not from an animal or vegetable-based oil and ruled out palm oil.

One expert said the oil could have been discharged into the sea accidentally or deliberately from a ship.

Experts say that if those responsible for the spill are identified they could be prosecuted. Tony Whitehead, from the RSPB, said investigations were continuing to establish what it was and where it came from. "It's a refined mineral oil, which is a colourless and odourless substance, and it's related to petroleum jelly," he said. "We don't know where it came from and we need to do a lot more testing on this substance to try and track it back to its source.

"There are people speculating it could be from a ship, that's possible but we just don't know yet. "We need to look at what happened and if appropriate take legal action and also, frankly, shame the people."

Mr Whitehead added: "I saw some of these birds yesterday and they were in a right state. It was really, really heartbreaking."