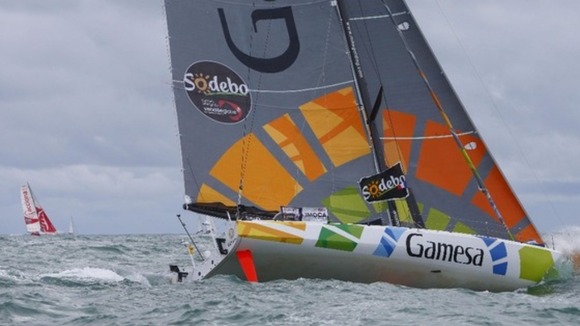 Mike Golding, skipper of Gamesa, crossed the finish line of the Vendée Globe at 18:38:26 UTC/GMT on Wednesday 6 February in 6th place, becoming the first person in the 24 year history of the solo, non-stop, round the world race, to finish successfully three times. Golding completed the iconic course in 88 days 6h 36m 26s, racing over 27,281 miles.
"How does it feel to finish? It is a relief! It has not been the easiest of Vendée Globes, in fact it has been the hardest without any question because of the weather. The boat has been good, we have had a few problems, but the race itself has been hard for this group of boats [SynerCiel, Gamesa & Mirabaud] right up to the end, right up to Biscay. I had 50 knots in Biscay and I put the very small storm sail, the ORC up, for the first time. It is a relief to be in and for a number of reasons, which will become clear over the next few days.

"Yes, I am the first person to have completed the race successfully three times. Lots have competed in the Vendée, and lots multiple times. I have competed four times and finished three times and I have beaten the odds. The odds say that less than half of the boats will finish the Vendée Globe and I have beaten the odds in multiple races.

"I didn't do this Vendée Globe, or any other, to stack up the numerical supremacy, I did them to compete, and to win it would have been a dream. I haven't done that, but in pursuing that dream, I have made several others come true, including this one of having finished the race successfully three times. It's an honour to hold that accolade."
– Mike Golding

Golding set out from Les Sables d'Olonne, with 19 other competitors on 10 November 2012 for the east-about race round the three Capes - Cape of Good Hope, Cape Leeuwin and Cape Horn - unassisted and without stopping. The race has not been without issues for Golding who has dealt with damaged hydro generators, leaking ballast tanks, loss of a sail and, for the last week of the race, has managed to stem large amounts of water coming up into Gamesa through the keel box, after losing the keel fairing.

Golding concluded, "Would I do the Vendée Globe again? In another life!"