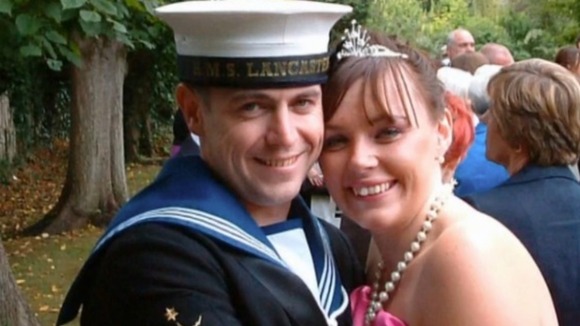 The wife of the missing Hampshire sailor Timmy MacColl has decided to close down the Facebook group she set up to help find him after he went missing while on shore leave in Dubai last year.
Rachael MacColl launched a wide scale international campaign to find her husband, launching a website 'Bring Timmy Home' and harnessing social media including a Facebook site, Twitter account and hashtag for twitter users to join her in her search and spread the word and circulate Timmy's photograph in case they or anyone they knew recognised him. She captured national attention in her search and garnered much support from the public. The Facebook page alone gathered almost 100,000 followers.
ITV News Meridian have followed Rachael MacColl's search for Timmy, and in January 2013 she gave us an exclusive interview to about how her family were dealing with her husband's disappearance, and the progress of the campaign.
In a statement on the official 'Bring Timmy Home' website which will remain live, Rachael MacColl thanked her supporters, and said she was now satisfied that the authorities both in the UK and Dubai are doing all they can to find her husband. She said while it was a hard decision she had to close down the Facebook group because it was a constant reminder to her and her children of their loss, which was having an 'adverse effect' on their lives.
Timmy MacColl was serving with the Royal Navy ship HMS Westminster when he disappeared while on shore leave in Dubai in late May 2012. Within months of his disappearance his wife gave birth to the couple's third child.
The search to 'Bring Timmy Home' continues.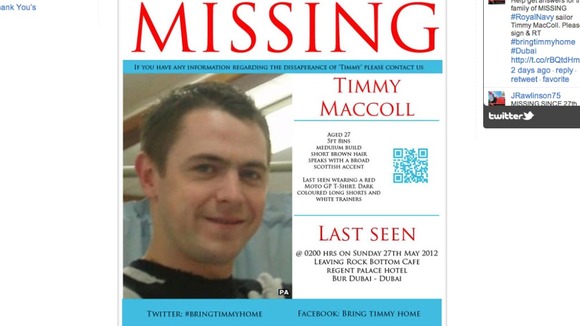 Thank you to everyone who has supported me and my family during the last 8 months. It has now been over a year since i last saw my husband and things have changed dramatically. In light of my recent visit to Dubai i am quite comfortable in the knowledge that extensive searches for my husband have been conducted and unfortunately have come to no conclusion into his whereabouts. Your extensive campaigning on our behalf has been heart warming and has yielded great results. We now have contacts both here in the UK and out in Dubai who will continue looking for answers. The campaign to Bring Timmy Home is no longer fitting and unfortunately due to this changes need to be made.

Therefore in light of recent events I have come to the decision to close the Facebook group. Me and the children now need to come to terms with the fact that we have to live our lives without Timmy. This group is now serving as a constant reminder of what i have lost and is having an adverse effect on our lives.

Thank you once more for everything you all have done, the time and effort that you all have committed to our cause has really been breathtaking and not in vain. We have achieved so much that would never have been possible without you. This has been a hard decision but it is in the best interest of my family and children. I hope you all understand.

All further communication from the family will be via this website.

Love, kisses and magic,

Rachael MacColl.
– Rachael MacColl's statement to her family's supporters