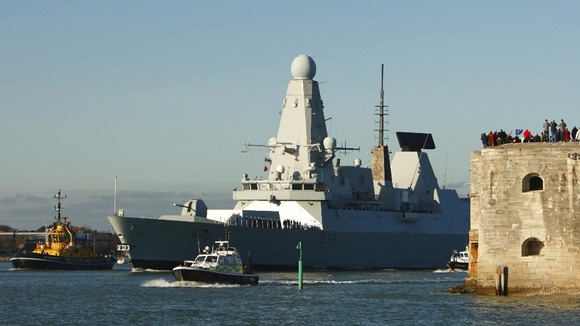 HMS Daring is on her way to the Philippines to help with the disaster recovery effort following Typhoon Haiyan. This latest support comes as the UK scales up its humanitarian response with an additional £4m of assistance, bringing the UK's total contribution since the disaster struck to £10m.
The additional support will provide aid flights from the UK to Cebu in the eastern Philippines to deliver forklift trucks, cutting equipment, 4x4s and other kit to help clear and re-open runways and roads; the delivery of supplies through Rapid Response Facility partner agencies such as temporary shelters, blankets and water purification tablets to 300,000 people; and household goods to allow the safe treatment and storage of water and to help prevent the spread of disease. These includes buckets, water purification tablets, soap and sanitary items.The Prime Minister David Cameron said: "Britain is contributing £10m and HMS Daring, currently deployed near Singapore, will shortly be heading at full speed towards the disaster zone with further support from an RAF C-17 which will be a powerful help to the relief operation."
The scenes of utter devastation in the wake of Typhoon Haiyan are shocking in their scale and we know that the survivors, especially vulnerable children and women, now face a grim and uncertain future. Britain is determined to stand by the Philippines and we have now pledged a total of £10 million to get 800,000 people the food, water and shelter they urgently need. On top of this, we are deploying the destroyer HMS Daring and at least one RAF C-17 to the disaster zone to give powerful help to the relief operation and get aid to the areas that are hardest to reach and where the need is greatest."
– Justine Greening, International Development Secretary

The cost of the military assistance will be covered by the UK's disaster relief fund. The additional support announced today shows the UK's unwavering commitment to supporting the people of the Philippines in the wake of a typhoon that has affected 4.3m people.Within hours of the typhoon, the Department for International Development had activated the UK's Rapid Response Facility, which provides emergency support via pre-approved organisations in the event of a humanitarian disaster overseas, and pledged an initial £6 million to get food, shelter and clean water to people in need.

Meanwhile, DFID humanitarian experts have been deployed to the Philippines to help coordinate the international response and ensure we are prioritising the protection of vulnerable women and children.