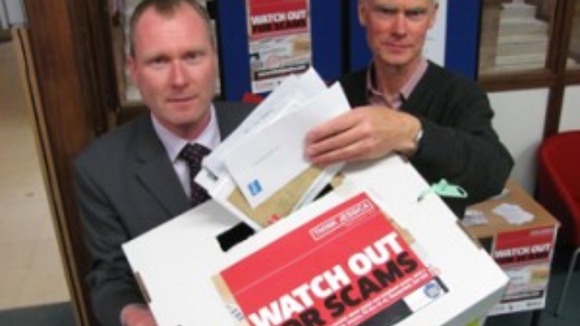 'Scamnesty' boxes where people can dispose of scam mail will be popping up around Oxfordshire in May as part of a drive to disrupt rogue trader activity.Letterbox tactics used by con artists will be highlighted during the campaign during National Scams Awareness Month.
Oxfordshire County Council's Trading Standards team has teamed up with the county's Citizens Advice Bureaus (CABs) to also raise awareness about other scams fraudsters peddle, which can be instigated and carried out online, on the doorstep or via a telephone call.
People can dump scam mail they have received in 85 boxes at various locations including 16 county council libraries and six county council health and wellbeing centres. Boxes will also be placed within CABs and in sheltered housing developments.Letters received will be collected and information shared with other Trading Standards teams across the country to better understand the problem.There will also be a number of information stalls set up in various public places throughout Oxfordshire to highlight key messages during May.
We want to highlight tactics used by unscrupulous rogue traders - one of the ways to crackdown on scammers attempting to fleece money out of people through the post is to give residents a place where they can dump these unwanted letters. I hope that householders will take advantage of the scam mail boxes that will be placed in libraries, CABs, health and wellbeing centres and other buildings during May and dump the letters which are purely designed to con people out of their money. We will collect all the letters posted in the 'scamnesty' boxes and, by sharing our results with those from other parts of the country, we will get a much clearer picture of the scale of the problem and how to tackle it."
– Richard Webb, Oxfordshire Trading Standards
Scammers try and target potential victims in a variety of ways, whether that be via post, over the telephone, on the doorstep or online. Often they focus on the elderly with sophisticated cons such as posing as a bank or a phone company. People regularly come to us with heart-breaking stories about con artists taking their money and it's important that people know what to look out for and what they can do. Anyone who is unsure about someone asking for their financial details should check with someone they trust and report anything that sounds dodgy to their local Citizens Advice Bureau."
– David Soward, Oxfordshire's Consumer Empowerment Partnership

The libraries where 'scamnesty' boxes will be are: Abingdon; Banbury; Bicester; Blackbird Leys; Carterton; Central Library, Oxford; Cowley; Didcot; Headington; Henley; Kidlington; Summertown; Thame; Wallingford; Wantage and Witney.

'Scamnesty' boxes will be at the following health and wellbeing centres:
Ruskin Road, Banbury
Launton Road, Bicester
Britwell Road, Didcot
Horspath Driftway, Oxford
Millington Road, Wallingford
Garston Road, Wantage
The CABs which will have 'scamnesty' boxes are in Abingdon; Banbury; Didcot; Henley; Oxford; Thame; Wallingford and Witney.
The CEP has a website stating where the information stands will be.