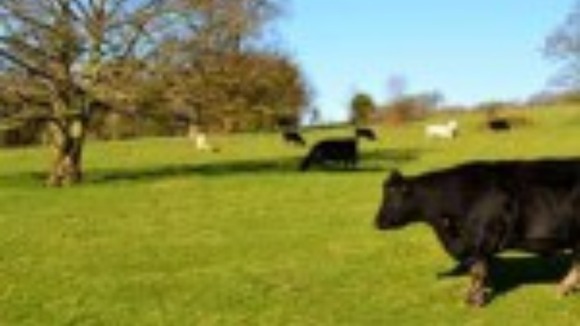 As summer approaches walkers are being warned of the dangers of walking in fields full of cows.
East Sussex County Council is warning people that the normally docile animals can become aggressive towards walkers, especially when calves are present.
Last year there were a number of incidents nationally where walkers were seriously injured, and even killed by cattle while walking through fields.
East Sussex County Council is urging people to take extra care this summer when they come into contact with cows, especially when calves are present.
The National Farmers' Union and The Ramblers say cows can feel threatened by dogs and are, therefore, more likely to attack. They have issued some advice for walkers:
Thankfully, serious incidents involving walkers and cattle are rare, but we would recommend that people take every precaution when enjoying the East Sussex countryside. Keeping your dog on a lead, finding alternative routes when faced with a field of cattle and ensuring you carry a mobile phone to call for help if necessary are all steps that can help keep you safe while out walking."
– Cllr Carl Maynard, lead member for Transport and Environment.

Things you shouldn't do-
• Don't try get between cows and their calves• Don't hang onto your dog. If you are threatened by cattle – let it go as the cattle will chase the dog• Don't put yourself at risk. Find another way round the cattle and rejoin the footpath as soon as possible• Don't panic or run. Most cattle will stop before they reach you. If they follow just walk on quietly.
Things you should do-
• Do be prepared for cattle to react to your presence, especially if you have a dog with you• Do move quickly and quietly, and if possible walk around the herd• Do keep your dog close and under effective control on a lead
Our beautiful East Sussex countryside is working farmland, which helps form its character and make it such a pleasure to walk in. Fortunately attacks by cattle are few and far between, but with any working environment there are certain risks. We would urge everyone out walking to be aware of the dos and don'ts, especially at this time of year, but try not to let the very low risk of cattle attacks put you off enjoying the countryside when it is arguably at its loveliest."
– Malcolm McDonnell, East Sussex Footpath Secretary for The Ramblers
The countryside is where farmers earn their living and produce food for us all, so there is no escaping the fact that cattle and sheep will be grazed there," he said."Indeed it is often these activities that make landscapes like the South Downs and the Sussex Weald so attractive. Farmers understand their duty of care and that the best way to prevent accidents is to identify and minimise risk. They are also encouraged to display signs explaining to walkers how to avoid cattle-related incidents and especially how to manage dogs in the presence of livestock. We are grateful to The Ramblers for working with us to ensure that users of rural rights of way can continue to enjoy the countryside safely."
– Tom Ormesher, Adviser for the National Farmers Union,