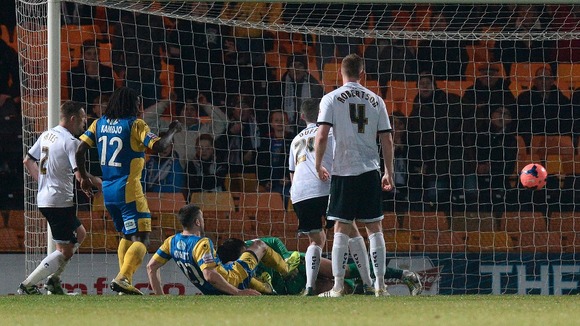 Salisbury City Football Club is facing expulsion from the Football Conference - unless it can meet a deadline of 5pm today to cover the players' wage bill.
The Salisbury Journal has reported the club needs to find £29,000 ahead of the deadline this afternoon.
The Football Conference board had previously released a statement saying failure to meet certain financial conditions would lead to the club's expulsion from the league.
A quorate meeting of its Board of Directors met to consider matters of membership ahead of its Annual General Meeting. In the case of Salisbury City FC Ltd, being represented by directors Mark Winter and Otail Touzar, the Board unanimously agreed that the club can retain membership of the Ltd Company and their place in the Football Conference Premier, providing financial payments are secured as directed by the Board. Failure to meet the financial conditions imposed the club's membership would be revoked."
– Football Conference statement

The Journal has quoted owner Mark Winter, who holds two per cent of the shares in the club, as saying he was "embarrassed" and "ashamed" regarding the situation around the its future.

He told a supporter's meeting yesterday he had taken money from his mortgage to try to help the club.

In a statement on the club's website, he appealed for fans to continue their support.
Following events of yesterday, where I addressed the supporters club members and informed them of the situation at Salisbury City FC, discussions with the Football Conference are taking place ahead of the 5pm deadline set for later today. They have been made aware of the situation and are understanding. At this point there is no other comments on this subject that the club can make on the future of the club.

Should we be able to resolve this very difficult situation the club will still need financial funding to remain in business as explained to the fans yesterday.

Please bear with us while we are doing our utmost to resolve the situation. We will keep you updated if there are any news.

Yours Sincerely

Mark Winter"
– Statement on Salisbury City website

ITV Meridian understands from the Football Conference this afternoon that the 5pm deadline had not changed and if the club did not find the money needed to pays its football creditors, it will face expulsion from the league.