Hundreds of residents staged a protest march in West Sussex today against a plan to build 2 thousand new homes. Villagers from Barnham, Walburton, Eastergate and Westergate braved torrential rain to voice their concerns. Sally Simmonds joined them, and spoke to Nick Herbert MP and tenant farmer Jim Helyer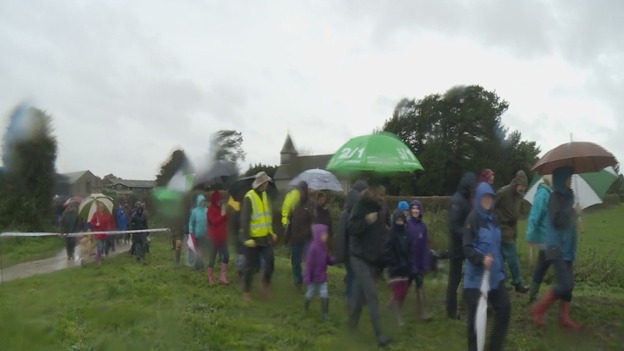 Police have launched an investigation after a man's body was found in the sea off Goring beach.
The body was spotted in the water near Worthing Sailing Club at 12.25 this afternoon.
Police, Solent Coastguard and Worthing Beach Office staff were called to the scene and the body was recovered by two boats to the Alinora boat ramp, in Goring.
It's thought the body had not been in the sea for a long period of time.
Advertisement
A 33-year-old man is behind bars after subjecting a woman to more than 400 abusive and threatening texts in just two days.
Nathan Hageman, of Ambrook Road, Reading pleaded guilty to the harassment of a woman in her thirties.
He received a four month prison sentence with a requirement to serve at least two months in prison.
The offence took place between 17-18 November, when Hageman harassed his victim with over four hundred abusive and threatening text messages by mobile phone.
Eileen Harris, 60 was on the train to travel to Tunbridge Wells in Kent when the fire started.
She described the chaos when the fire broke out and how some of those on board initially feared it was a bomb.
Mrs Harris' 26-year-old son Daniel was travelling with her on the train:
A passenger who was on the Southeastern train which caught fire at Charing Cross this morning has spoken of his ordeal.
Vincenzo Minore, who is from west London and the CEO for cosmetics company Soap and Glory, was on board with his wife, two children and in-laws, when the fire broke out.
Charing Cross station has now reopened, after this morning's fire, apart from platforms 5 and 6.
Advertisement
A passenger has described how he arrived on platform four this morning to hear 'a huge noise' from platform six.
Neil Hurle, who took the photo below, went on to say how he was marshalled onto the concourse, before being evacuated and that it appeared the fire was coming from the tracks.
There's major disruption to journeys between London Charing Cross, London Blackfriars and London Bridge, following this morning's train fire at Charing Cross station.
The latest can be found on National Rail's website.
Load more updates
Back to top