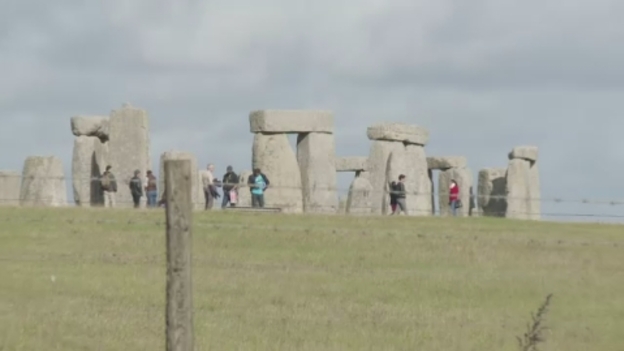 Long-running plans to build a road tunnel underneath Stonehenge look set to be re-instated . George Osborne is expected to make an annoucement in his Autumn Statement. If it does happen - it could mean an end to one of the worst traffic blackspots in our region. Andrew Pate reports.
The only surviving ship from the Gallipoli Campaign in the First World War is to be opened to the public for the first time thanks to £1.75 million of lottery cash.
The Heritage Lottery Fund (HLF) has awarded the grant to the National Museum of the Royal Navy (NMRN) in Portsmouth, Hampshire, to restore the HMS M.33 in time for the centenary commemorations next year.
Matthew Sheldon, project director, said: "HMS M.33 is a small ship but has a big history.
"It will be wonderful to open the ship to visitors next year on her centenary - finally we'll be able to share the story of her part in the Gallipoli Campaign, and reveal what it was like for the 72 crew who were crammed on board."
The Gallipoli Campaign, fought between April 1915 and January 2016 in what is now Turkey, claimed more than 100,000 lives of personnel from all round the world.
HMS M.33 is a 'Monitor' ship which, at 568 tons and with a shallow draft, was able to get close in to shore and fire at targets on land.
It carried two powerful and oversize 6in guns but has been described as "a basic metal box lacking in comforts".
Advertisement
There's a myth that cats are supposed to have nine lives - but this puppy in Swanage was certainly looking to challenge that.
Molly the dog escaped unscathed despite falling nearly 100ft over Old Harry Rocks in Dorset.
The Coastguard was called to rescue the Norfolk terrier after her owners reported she had fallen from the cliffs.
On arrival, crews found the owner and about 100 people looking over the cliffs.
Crews say she luckily landed softly from the fall - where Poole RNLI safely recovered the dog to the boat. Last night the owners of Molly wrote to thank everyone involved in Molly's rescue.
They say they are fully aware they should have had Molly on the lead and they have joined a growing number of owners who have forgotten the rule.
A woman in her 70s is lucky to be alive after she was pulled from a ditch by emergency crews after becoming stranded in remote countryside.
The woman was only discovered, submerged in mud and water, by a passing dog walker near Oakley Lane, Mottisfont, at around 11am this morning.
It is thought the woman's car had become stuck in mud down a track.
Her efforts to free the car had then left her exhausted and immersed in the mud herself for several hours.
It took fire, police and ambulance crews some time to locate the casualty because of her remote location and they needed specialist off-road vehicles to reach her.
She was taken to Southampton General Hospital suffering from the effects of hypothermia.
A 26-year-old man has been arrested on suspicion of murder after a body was found in a car fire in Dartford.
Kent Police is treating the death of a woman, named locally as Donna Eastwood, as an isolated, targeted attack.
They believe the offender and the victim knew each other and say there is no information to suggest the public are in danger.
Emergency services were called to Rowhill Road in the Dartford area early on Saturday morning after the woman's body was found in a burning car.
The arrest comes after officers and a police helicopter have been conducting searches of the local area.
Kent Police is appealing for witnesses to come forward following a road traffic collision on the Wainscott Bypass in Medway.
At 8pm on Friday 17 October a red Renault HGV was driving along lane one of the A289 London-bound carriageway when it manoeuvred to avoid a broken-down grey Saab.
As it did so, the lorry collided with a blue and white Suzuki GSXR motorcycle causing its rider to come off his bike.
The carriageway was closed for a number of hours whilst officers from Kent Police's Serious Collision Investigation Unit carried out their enquiries.
The motorcyclist sustained serious injuries and was airlifted to hospital where his condition is described as stable.
One man has been arrested and bailed pending further investigations.
Kent Police is keen to speak to anyone who may have witnessed the collision or been in the area in the moments beforehand.
Witnesses are urged to contact the dedicated SCIU appeal line on 01622 798538 or Kent Crimestoppers anonymously on 0800 555 111.
Advertisement
For years she was thought to be a girl, but now Hatch, the seadog who went down with the Mary Rose nearly 500 years ago, has been declared a boy.
DNA tests on the mongrel's remains have revealed more accurate details about the dog, whose bones were beautifully preserved in the silt of the Solent until their recovery in 1982.
Until now, Hatch was thought to have been the only known female on board the Mary Rose, which sank in 1545.
Hatch's skeleton is on display at Portsmouth's Mary Rose Museum, where 19000 objects from Henry VIII's ill-fated ship are on display
Flowers have been laid in tribute to a woman whose body was found in a burning vehicle in Kent.
Police began a murder inquiry after emergency services were called to Rowhill Road in the Dartford area early on Saturday morning.
The victim has been named locally as Donna Eastwood, a mother of four, whose former partner is understood to have been Kevin McKinley, who was shot dead last year.
Michaela Sargeant, 25, was convicted of the manslaughter of the 32-year-old outside her home in Overy Street, Dartford. She was sentenced to eight years in prison.
The burnt out car has now been removed from the scene, leaving scorch marks on the ground.
The police helicopter has been helping officers search the Wilmington area.
A man's body has been found at Park Street in Ashford, near the Panorama building.
Police officers and ambulance crews were called early this morning to reports of a man in the road, but when they arrived they found that he had died.
A police spokesman would not say how the man came to be in the road but confirmed they are not treating his death as suspicious.
Rescue operations in the Himalayas, where hundreds of trekkers were caught in blizzards and avalanches, have been scaled back as most of those stranded have now been picked up.
At least 38 tourists and Nepalese died, but it is feared that the final toll could be considerably higher when more bodies are recovered from the snow.
About 40 people remain unaccounted for and the families of several British trekkers are still awaiting news of their relatives.
Among those missing is Peter Roddis, an engineer from Brighton.
But the family of Jade House, an English teacher from Liphook in Hampshire, has been found safe, along with her boyfriend Oliver de Paolis.
There had been fears for their safety, but they made contact with family yesterday.
The Foreign Office said it was working with authorities in Nepal to account for every Briton believed to be in the area, but a spokeswoman said it was not aware of any British casualties.
The upper section of the popular Annapurna circuit, where the hikers were caught, was closed on Sunday.
Thousands of trekkers flock to the area in October, when conditions are usually ideal, but the tail end of a cyclone brought unseasonal weather to the Himalayas last week.
Load more updates
Back to top