Now you've heard of the Great British Bake - so here's a sweet little treat for you that is certain to leave you doughy eyed.
Yes when six orphaned pups were rescued by the Dog's Trust in Newbury they were all deemed good enough to eat so staff decided to name them after the popular baking contest.
The fifteen week old West Highland terriers are called Cupcake, Cookie, Crumble, Cinnamon, Choux and Custard Cream. Three have already found a new owner but the others are looking for the perfect ingredients for a new home.
Up to 200,000 people are expected to take part in this weekend's Pride in Brighton and Hove. The event - celebrating the LGBT community - is in its 25th year and predicted to be the biggest yet.
But for one couple it marks a very special personal milestone too. 92 year old David Montague has chosen this weekend to marry his long-term partner. Malcolm Shaw has been to meet them.
Advertisement
A police car has been designed for Sussex Police, especially for Brighton Pride, which kicks off tomorrow.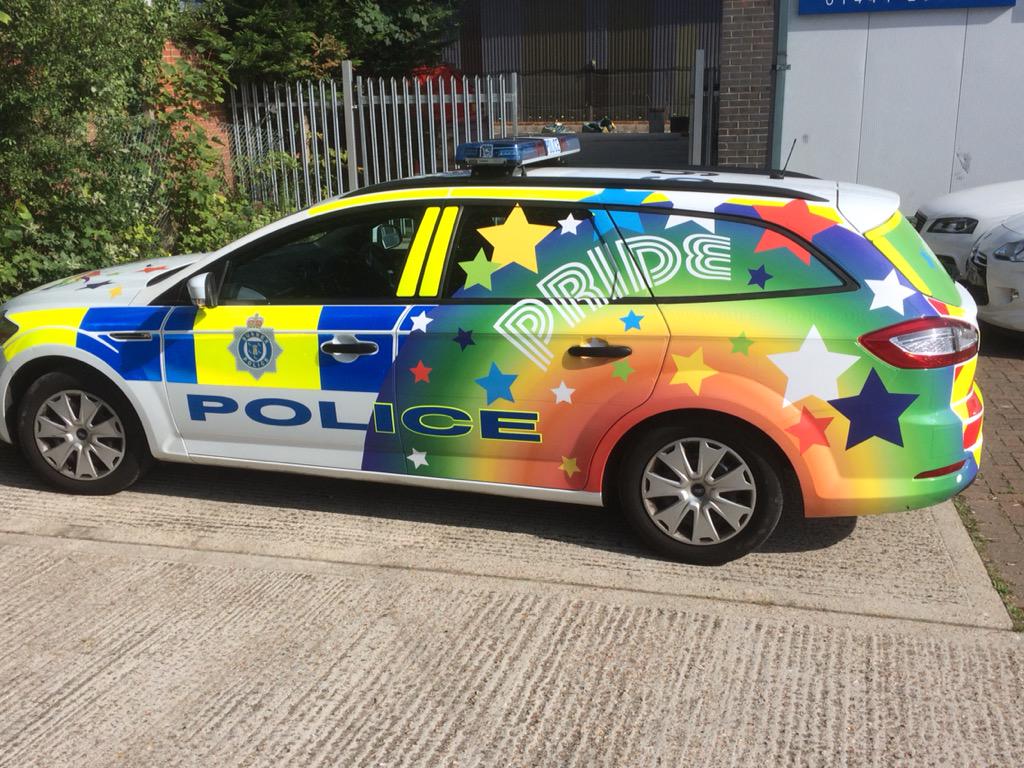 Now in it's 25th year - 160 thousand people are expected to attend. It's the largest event of its kind in the country. This year, an extended parade will start from Hove Lawns at 11am and retraces the steps of the first Pride walks.
As a first for graduation ceremonies at the University of Southampton, a student has got down on one knee and made a proposal of marriage in front of hundreds of other graduates.
Masters student Shiyi Ying was given special permission to take to the stage towards the end of the ceremony so he could pop the question to Yu-Yen Ou, his partner of two years.
Describing the University as a "magic place", Shiyi invited her onto the stage and told her: "Deep inside I know you are the only one I can share the rest of my life with, because I love you."
He then produced a ring and asked her to marry him – to which she said 'yes,' before the couple hugged on the stage to rapturous applause.
The "mud-splattered" cloak worn by the Duke of Wellington during the Waterloo campaign has sold at auction for £47,500.
The garment, made from blue wool and trimmed with a navy collar and facings, was acquired by London's National Army Museum (NAM) from Sotheby's auction house.
This summer marks the bicentenary of the battle, which saw allied forces led by the Duke secure victory over French emperor Napoleon, ending two decades of war.
The Duke has significant connections to the Meridian region. His family home was the Stratfield Saye Estate, between Reading and Basingstoke. His descendants remain there to this day.
The Duke ended his days in what he called his favourite retreat - Walmer Castle, on the Kent coast.
David Johns (@davidjohns_itv)
There aren't many one-month-olds who can claim to be internationally famous but a youngster from Tonbridge is exactly that.
But this infant is an American miniature horse who, when he was born, was one of the smallest in Britain at just 36cm tall. He's called "micro Dave" and we sent our own Dave along to meet him.
Reporter David Johns spoke to micro-Dave's owner Jen Baldwin-Murphy and groom Claire Murphy.
Advertisement
A Brighton couple got a surprise on their way to Wimbledon today after winning a VIP competition...you cannot be serious!
Read the full story ›
A Welsh photographer beat thousands to claim second prize in an online photo competition.
Almost 6,000 people entered a competition run by watchmakers Christopher Ward to share images of the places, people and sights they feel best express what 'makes Britain tick'. Nadya Migai, originally from Moldova but now living in Wales, entered the competition with a photo entitled 'Jumping Umbrella'. She has won £2000 for coming second.
"This shot was taken about two months ago in Manchester during an informal photo trip. It was a cold rainy Manchester day (of course!) and the girl in the picture matched so perfectly to the surroundings that it felt like she belonged to that place.

For me, the moody weather completed the picture and it's a real 'Mary Poppins' moment!"
– Nadya Migai
First prize went to Benjie Aguilera Brown for his candid capture of a crowd of texting commuters lost in their own worlds on a tube station platform.
A top 100 shortlist of images was whittled down via the number of likes received on photo sharing website Instagram. These top 100 were then put forward to a judging panel. Charlotte Docker came third with her image of a morris minor at the seaside.
The world's oldest example of a giant flying reptile has been found on the Isle of Wight by fossil hunter Will Thurbin.
Read the full story ›
Hundreds gathered to welcome Portsmouth-based HMS Quorn home after three months deployed on mine-clearance operations in the Baltic Sea.
Read the full story ›
Load more updates