Hundreds of beachcombers are searching the sands of Folkestone today for thirty gold discs hidden on the beach by a German artist. The hidden treasure is part of an artistic productions by Michael Sailstorfer for the town's triennial art festival. It's an event that happens every three years and sees thought provoking work in galleries and local streets.
The beach, which becomes partly covered at high tide, is open to the public. The pieces of gold are dispersed across a wide expanse of beach, which is only revealed during low-tide.
Metal discs have also been scattered on the beach so people searching with metal detectors may not find it as easy to find the gold as they think.
Advertisement
The awareness raising initiative also known as the ALS Ice Bucket Challenge in the USA - ALS standing for amyotrophic lateral sclerosis. The challenge dares those nominated to be filmed having cold water poured over them - they make a donation to help research - and they then challenge others to face a similar fate.
They then have twenty-four hours to comply or must, as a forfeit, make a donation to charitable organisation. Fred has nominated his co-presenter Sangeeta Bhabra and another colleague, Robin Britton, Head of News at ITV Meridian. He also nominated his friend and BBC South presenter, Sally Taylor.
For more information on the Motor Neurone Association and their fund raising objectives please go to the link here
A group of carpenters in Kent put the finishing touches to their strangest commission today. They completed construction of a replica Viking boat...in the full knowledge that tonight it will be reduced to ashes.
John Ryall spoke to carpenters Andy Parkins and Bob Girardot from Broadstairs Shed and Suzy Humphries, Founder of the Ramsgate Arts Festival.
Four women are celebrating after they swam around the Isle of Wight, raising £1,700 for the Hampshire and Isle of Wight Air Ambulance.
They completed the swim in just over 24 hours, covering 56 miles in strong tides and choppy, cold waters.
Pauline McCracken, Heather Lunt, Ann Brimelow and Kate Steels-Fryatt started the swim at St Helens on Saturday and finished Sunday night, after each swimming six hours and a distance just short of an English Channel crossing.
In the run up to the swim, the team had a late change as their original fourth swimmer, Chris Pitman, fell ill and had to undergo heart surgery. They also had to loan a yacht from Port Solent after they lost their boat and support crew 24 hours before starting.
"It feels amazing, I can't believe we've done it after 18 months of planning.

"The fifth hour in the water was the toughest thing I have ever done – I came out smiling but very emotional!"
– Pauline McCracken
Advertisement
Now, have you ever wanted to join the circus? Well, if so, Norman Barrett could probably give you some advice. He's spent practically his entire life under the Big Top. Awarded an MBE in 2010, he is now celebrating his 65th year in the business! Andy Dickenson caught up with the legendary ringmaster in Hove.
Police in Kent appear to have been called out to rescue a snake trapped in a plant pot.
Job of the day. Rescuing a grass snake which had woven itself into 2 holes at the bottom of a plant pot and got stuck http://t.co/pywrrG9F1p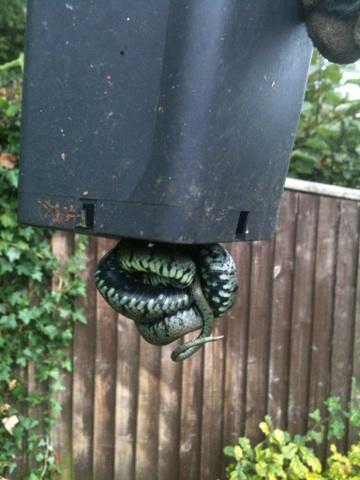 Sevenoaks Police later updated followers with the news that the grass snake had been freed but the plant pot had been destroyed.
#police update on stuck grass snake. Snake released unharmed. Plastic plant pot did not fare so well. It will be missed.
As crowds built up inside and outside Gatwick Airport, a lone baby fox wondered what the commotion was all about...
Video: railway services in Sussex were disrupted this morning when a grazing bull wandered onto the track.
Load more updates