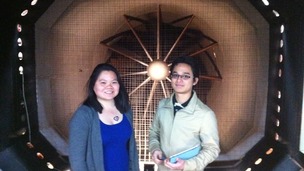 Overseas students living thousands of miles away can study at British universities without leaving home.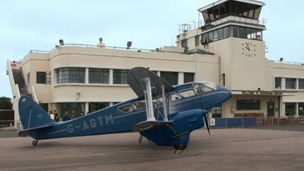 Flights from Shoreham to France are to be suspended just two months after they launched, following a dispute with the French authorities.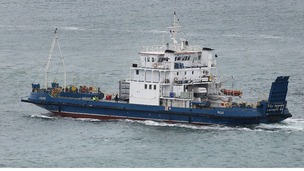 Protesters turned out as live animal exports resumed at the Port of Dover amid renewed calls for an end to the controversial trade.
Live updates
HMS Ark Royal's final voyage
Crowds at Round Tower wave off HMS Ark Royal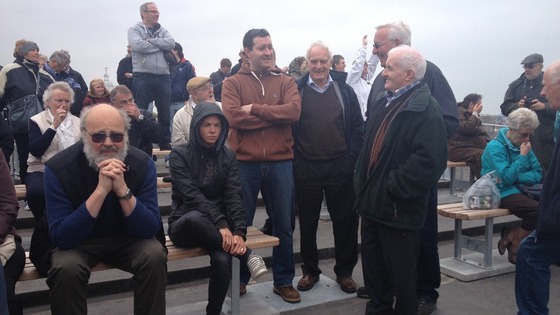 Crowds have gathered on the Round Tower in Portsmouth to say farewell to the HMS Ark Royal as it sails through Portsmouth Harbour for the last time.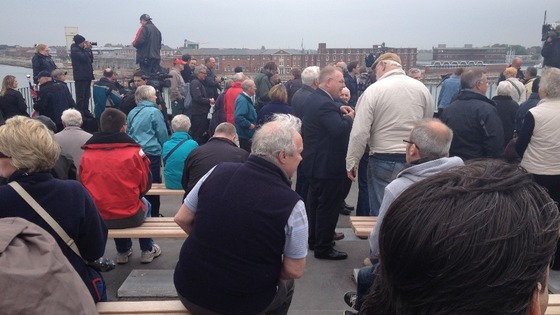 HMS Ark Royal's final voyage
Portsmouth prepares to say goodbye to HMS Ark Royal
Hundreds of people are expected at the Round Tower in Portsmouth to watch the final sailing of HMS Ark Royal. The ship will past the tower at 1pm.
Sad day now the #HMSArkRoyal is being scrapped. My favourite memory as a 15th Long Eaton "Ark Royal" Cub Scout - was a tour & tea on board.
From
@RichardOfTod
on Twitter:
The ark royal is going to a scrap yard today, after being decommissioned, I was christened on that! How sad!! ???? #hmsArkRoyal #lastsail
From
@Chezneeey
on Twitter:
Advertisement
HMS Ark Royal's final voyage
The Queen Mother and HMS Ark Royal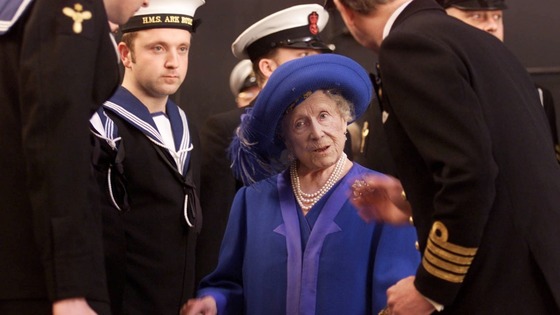 The Queen Mother launched HMS Ark Royal when she was built in the Swan Hunters Shipyard, Wallsend in 1981. She maintained a close relationship with the ship and its crew, serving as the company's patron until her death in 2002.
In November 2001 at the age of 101 she joined the twelve hundred crew members and their families to rededicate the ship after a major refit.
Nine years later her daughter the Queen would also visit Portsmouth to say goodbye to the ship before it was decommissioned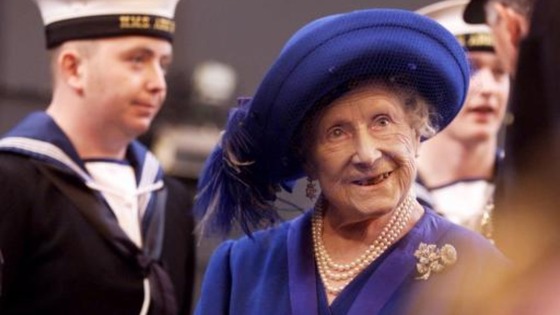 HMS Ark Royal's final voyage
HMS Ark Royal's final journey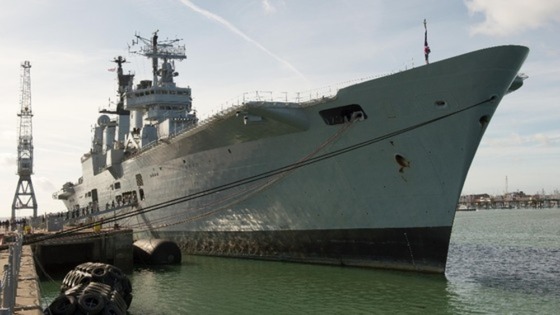 Hundreds of people are expected at the Round Tower in Portsmouth to wave off HMS Ark Royal on its final journey.
The Former Royal Navy flagship is being transported to Turkey where it will be scrapped. Its sister ship HMS Invincible was scrapped in Turkey last year.
HMS Ark Royal's final voyage
Ark Royal bound for Turkey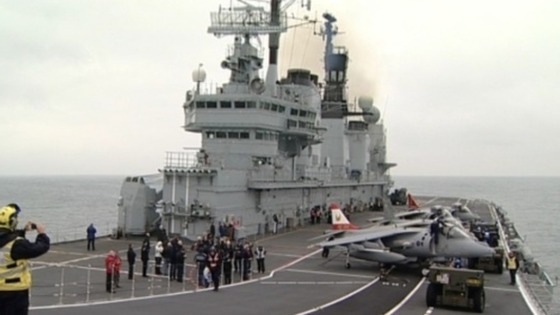 The Royal Navy's former flagship, the HMS Ark Royal is expected to leave her Portsmouth home for the last time tomorrow. The decommissioned light aircraft carrier is heading for a Turkish scrap merchant.
The ship was left unused at the city's Naval Base for the last two years. She'll be transported to the shipyard in Turkey, where she'll be recycled. Although orginally due to retire in 2016, she was instead decommissioned as part of the Strategic Defence and Security Review in 2010.
Largest cruise ship blessing
Keel of Britain's largest cruise ship is blessed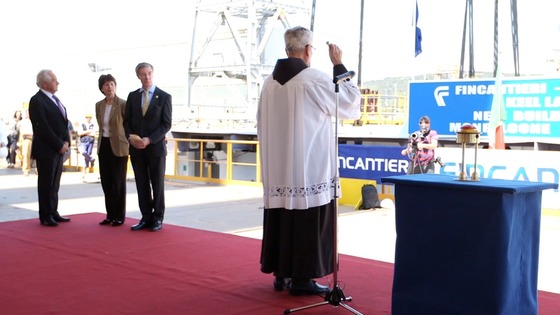 A ceremony has been held to mark the keel laying of the largest cruise ship ever built for the British market.
The blessing of the new P&O liner took place yesterday at the Monfalcone shipyard of Fincantieri near Trieste, Italy.
The 141,000 ton ship will begin operating in Southampton in 2015.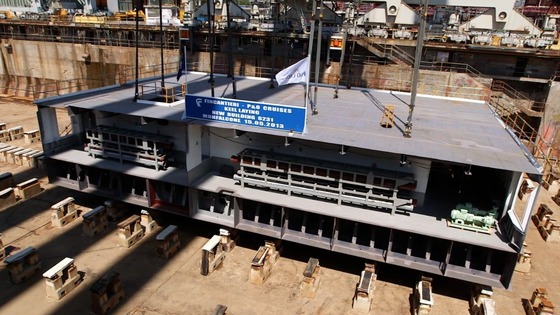 Advertisement
Virgin Atlantic's losses mount
Virgin Atlantic's new Chief Executive vows to return the airline to profit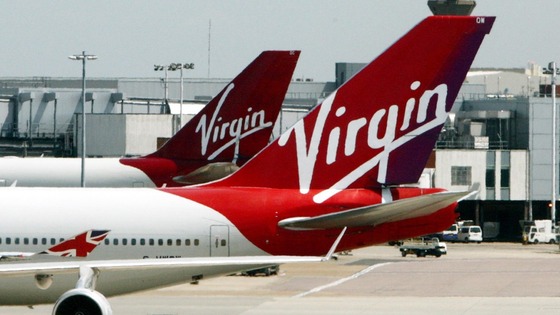 Chief executive Craig Kreeger said weak economic conditions and the Olympic Games in London, which dented demand for business travel, were factors in the airline's latest loss of £93 million for the year to February 28.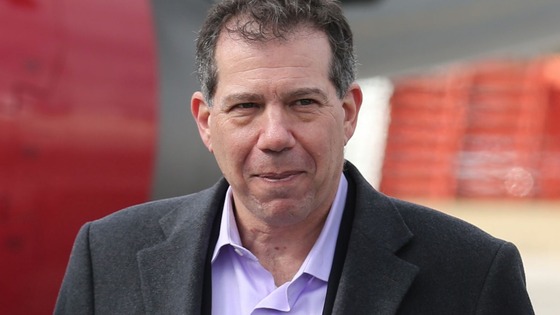 It has also suffered from high fuel costs, strong competition on transatlantic routes and taxes on UK air travel, although the figures showed it still increased revenues by 5% to £2.9 billion. It carried 5.5 million passengers in the period, an increase of 188,000 on a year earlier.
Mr Kreeger, who took over from Steve Ridgway as chief executive in February after a 27-year career at American Airlines, recently announced a staff pay freeze as part of a wider cost-cutting programme at the airline's Gatwick HQ and across the company.
Virgin hopes that its ties with US operator Delta, which acquired a 49% stake in the airline last year, will help it compete more forcefully with the British Airways-American Airlines alliance in the lucrative transatlantic market.
Today's airline loss contributed to a pre-tax deficit of £69.9 million for the wider group, which includes** **Virgin Holidays. The previous year's group loss was £80.2 million, with the airline deficit being £98.6 million in 2012.
Cathedral jobs boost
Cathedral Jobs Boost
by Andrew Pate
Warhead manufacturer in court
Atomic weapons plant admits failings
by Kate Bunkall
An atomic weapons plant has been accused of failing to protect its staff during a fire at the Berkshire base three years ago.
In a prosecution brought by the Health & Safety Executive, the Atomic Weapons Establishment (AWE) at Aldermaston today pleaded guilty to one charge of not ensuring the safety of employees.
One worker suffered burns to his face and arm in the fire which broke out in the building where explosives were being manufactured, in August 2010. Kate Bunkall sent this report from Reading Crown Court.
RSPCA appeal over live exports
Animal exports raised in Parliament
The MP for Dover has raised the issue of animal exports in Parliament.
Live exports resumed in the town earlier this month after being transferred from Ramsgate. Charlie Elphicke said his constituents are very concerned about the animal's welfare.
Load more updates