BAE is facing an order gap for the Typhoon, slowing production ahead of an expected order from Qatar. Around 340 jobs will be lost in Portsmouth.
Production of the Hawk jet aircraft is ending in the next few years, affecting the Brough site in Yorkshire, although Qatar could place a new order.
Around 400 redundancies are being planned at Brough.
Most of the military air job cuts will go in 2018 and 2019, with some planned for 2020 and BAE said its goal is to achieve as many voluntary redundancies as possible.
Around 375 job losses are planned for the maritime servicing and support business, with 340 in Portsmouth.
BAE's cyber intelligence business will cut 150 jobs, split between sites in London, Guildford in Surrey, and overseas.
The total number of proposed redundancies is 1,915.
Michael O'Leary asked pilots not to move to rival airlines, promising pay increases and improvements to contracts and career progression.
Read the full story ›
Advertisement
The supermarket giant will re-start dividend payments as it continues to notch up rising sales.
Read the full story ›
Monarch is the biggest UK airline ever to go into administration bringing to an end a 50 year history.
It began in 1967 when the growth of package holidays to the Spanish Costa's saw the company take off.
As Chloe Keedy reports.
Chloe spoke to Andrew Angus, Economics lecturer.
EasyJet has reached out to Monarch employees, encouraging them to apply for jobs at the rival airline following the collapse of Monarch Airlines.
As part of the airline's latest and largest ever recruitment, there are still opportunities for 100 cabin crew in Luton, 400 in Gatwick as well as a number of direct entry Captains.
A number of roles are also being advertised at easyJet's London Luton Airport headquarters.
Many of us know people who worked for Monarch and so we are really pleased, as our recruitment drive is still open, to be able to offer opportunities to those affected."

"We will be holding recruitment days for Monarch Cabin Crew both in Luton and Gatwick this week with 500 positions still available. We know the Monarch crew will be a great addition to the easyJet team and look forward to meeting many of them this week."
– Tina Milton, Head of Cabin Services for easyJet
Travellers are urged to visit the airline's website monarch.caa.co.uk at least 48 hours before returning home to confirm your new flight details
The effort to return 110,000 passengers to the UK will be the country's "biggest peacetime repatriation operation", the Transport Secretary Chris Grayling has said.
It comes after Monarch Airlines has ceased trading with immediate effect, meaning all flights and holidays have been cancelled and will not be rescheduled.
Transport Secretary Chris Grayling
The Civil Aviation Authority (CAA) will charter more than 30 planes to bring those whose flights have been cancelled home within the next fortnight, after the airline failed to renew a crucial licence.
Foreign Office staff will be at affected airports to assist vulnerable British travellers with specific needs.
Holidaymakers abroad do not need to cut short their stays to return home and will incur no extra costs over the changes.
We know that Monarch's decision to stop trading will be very distressing for all of its customers and employees."

"This is the biggest UK airline ever to cease trading, so the Government has asked the CAA to support Monarch customers currently abroad to get back to the UK at the end of their holiday at no extra cost to them."

"We are putting together, at very short notice and for a period of two weeks, what is effectively one of the UK's largest airlines to manage this task. The scale and challenge of this operation means that some disruption is inevitable. We ask customers to bear with us as we work around the clock to bring everyone home."

"We urge people affected by the company's collapse to check our dedicated website monarch.caa.co.uk for advice and information on flights back to the UK. It also gives information to those passengers that have future bookings with Monarch but are yet to leave the UK."
– Andrew Haines, Chief Executive of the CAA
Advertisement
A couple, due to get married at the weekend, have been stranded at Gatwick Airport after their flight was cancelled 10 minutes before they were due to board the plane.
Many passengers are angry they were not given more notice this was going to happen.
Alan Jee and his fiancé were due to fly this morning.
Alan and his fiancé are due to get married at the weekend
The airline has gone into administration and is attempting to return 110,000 passengers to the UK.
It will be the country's biggest peacetime repatriation operation.
This morning the first flight back to the Sussex site landed with 165 people from Ibiza.
Govia Thameslink Railway (GTR) has said its three train companies that serve airports will all honour the rail tickets of Monarch passengers returning to the UK early or late after the airline went into administration this morning.
This applies to passengers with advanced pre-dated rail tickets returning from Luton (with Thameslink) and Gatwick (with Gatwick Express, Southern and Thameslink).
People stranded by the Monarch problems have enough to worry about and this is something we can do to ease the last leg of their journey."
– Nick Brown, GTR Chief Operating Officer
Watch our Transport Correspondent Mike Pearse's full report below
Around 410,000 customers are affected by Monarch going into administration, including 110,000 currently abroad, the CAA says.
Gatwick Airport has advised Monarch passengers not to travel to the airport if they are due to depart from with Monarch Airlines today or in the future.
The advice for customers already abroad, due to return to the UK on or before 15th October 2017, is that arrangements are being made for them to return home to the UK on a new flight, at the end of your holiday. These new flights will be at no extra cost.
The airport says its an unprecedented situation and because there are up to 110,000 passengers abroad, the UK Government has asked the CAA to coordinate flights back to the UK for all Monarch customers currently overseas.
The following companies have ceased trading:
Monarch Holidays Ltd (ATOL Number 2275)
First Aviation Ltd (ATOL Number 4888) previously trading as Monarch
AirlinesAvro Ltd (ATOL Number 1939)
Somewhere2stay Ltd
Our reporter Chloe Keedy has been with the Civil Aviation Authority this afternoon to find out what it's doing to ensure passengers make it home and what their rights are.
Deirdre Hutton, Chair of the CAA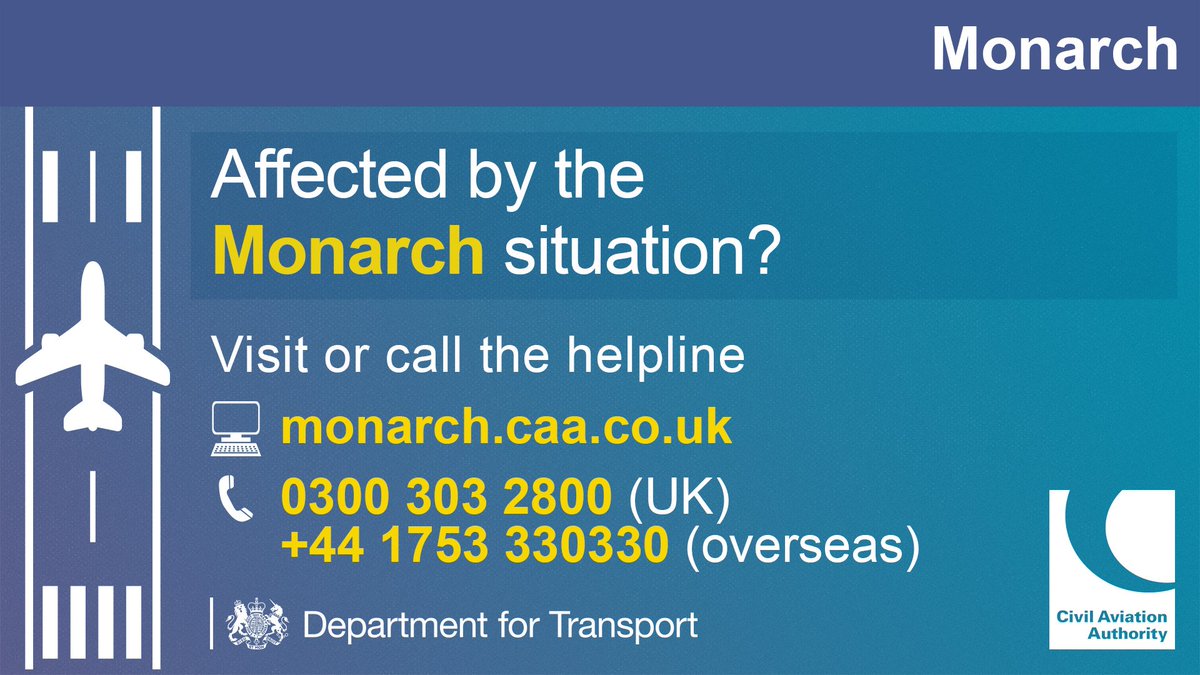 Load more updates