Christmas shoppers across Sussex are being warned to keep an eye on their valuables as shopping centres and streets become busier with just over a week to go.
Operation Tinsel aims to reduce incidents of theft, anti-social behaviour and to reduce the fear of crime. Leading up to the festive season there tends to be an increase in retail thefts.
In the Horsham area, Sussex Police are targeting shoplifters in the run up to Christmas. Officers will be conducting high-visibility patrols throughout the festive period to identify and target offenders by various means including uniformed and plain clothes patrols, utilising the Shopwatch radio system and CCTV and working in partnership with shops and licensed premises.
Purse thefts tend to increase around this time of year as the shops get more crowded in the busy pre-Christmas period and there is often an increase in this type of crime.
Sergeant Vicky Tomlinson said: 'If anyone is thinking about visiting our local towns to commit crime then think again. We're sending out a strong message to thieves that shoplifting and theft will not be tolerated. Offenders caught stealing can expect to be dealt with robustly.'
The police force also provided crime prevention advice:
• Keep your bag closed and close to you at all times, held securely under your arm or strapped across your body if possible.
• Never leave bags unattended - e.g. on a trolley, pushchair or wheelchair.
• Be aware of anyone acting suspiciously, such as getting too close to you or trying to distract you by bumping into you - such behaviour should be reported to police, security or shop staff immediately.
• Avoid carrying large amounts of cash around with you and don't let anyone see what's in your purse or wallet as you are paying.
• Never keep your PIN number with your bank cards.
The disruption at airports across Britain yesterday was caused by a system failure 'which has not been seen before', air traffic control company Nats said today.
Dozens of flights were cancelled and many others delayed after a computer failure at Nats' company headquarters at Swanwick, Hampshire, yesterday afternoon.
In a statement this afternoon, Nats said: 'Swanwick controller workstations provide a number of tools and services to the controller to enable them to safely control a high volume of air traffic. In normal operations the number of workstations in use versus in standby fluctuates with the demands of the traffic being controlled.
'In this instance a transition between the two states caused a failure in the system which has not been seen before. The failure meant that the controllers were unable to access all of the data regarding individual flight plans which significantly increases their workload.
'Our priority is to maintain a safe operation for the flying public; consequently when the failure occurred we immediately took steps to reduce the traffic into and out of the UK network. The controllers had a full radar picture and full communications with all aircraft at all times during the incident and at no time was safety compromised in any way.'
A spokesman for Heathrow said 38 flights were cancelled before 9.30am today 'as a knock on from yesterday'.
Advertisement
The chaos that hit UK airports is clearing - but 38 flights have been cancelled at Heathrow this morning.
While air traffic control company Nats declared its systems are back to full operational capacity, the flight mayhem at some of the nation's busiest thoroughfares could still be a reality for some passengers.
Dozens of flights were cancelled and many others delayed after a computer failure at Nats' company headquarters at Swanwick, Hampshire, yesterday afternoon.
A spokesman for Heathrow said 38 flights are cancelled before 9.30am today 'as a knock on from yesterday'.
Nats said at about 8pm last night: 'Following a technical fault with the flight data system used by air traffic controllers at Swanwick, Nats can confirm that the system has been restored to full operational capability and a thorough investigation is continuing to identify the root cause.
'Although operational restrictions applied during the failure have been lifted, it will take time for flight operations across the UK to fully recover so passengers should contact their airline for the status of their flight. We apologise for the impact that this issue has had, and the delays and inconvenience caused.'
The company has ruled out a power outage as the source of the glitch at Nats' state-of-the-art £700 million centre.
Airports as far north as Aberdeen and Edinburgh were affected by the computer problem. Other airports that reported delays yesterday afternoon included Manchester, Stansted and Luton.
Budget flier EasyJet said last night: 'EasyJet has had to cancel 10 flights to and from London Gatwick, however all aircraft which were earlier diverted have all now continued to their original destinations. In addition, it is likely that other flights to and from the south of the UK will suffer delays this evening.'
The airline said it had cancelled two Gatwick-bound flights scheduled for today.
Gatwick Airport said yesterday evening: "Some cancellations should be expected and passengers are advised to contact their airline for the latest flight information.
'All departing flights were affected for a period but the situation is improving and we (are) hoping to restore a near normal service later this evening.'
At Heathrow, a spokesman said yesterday there had been 70 cancellations out of about 1,300 scheduled flights. 'They're coming back to normal now,' he said.
The airport put extra staff on duty and were due to be open later than usual to try to get stranded passengers in the air.
Brighton Council has announced that it is considering a major new development in the city - extending the Churchill Square shopping mall and building a new conference centre on the seafront.
Once operational, it's believed the project would lead to 2,000 new jobs, as well as 450 new homes.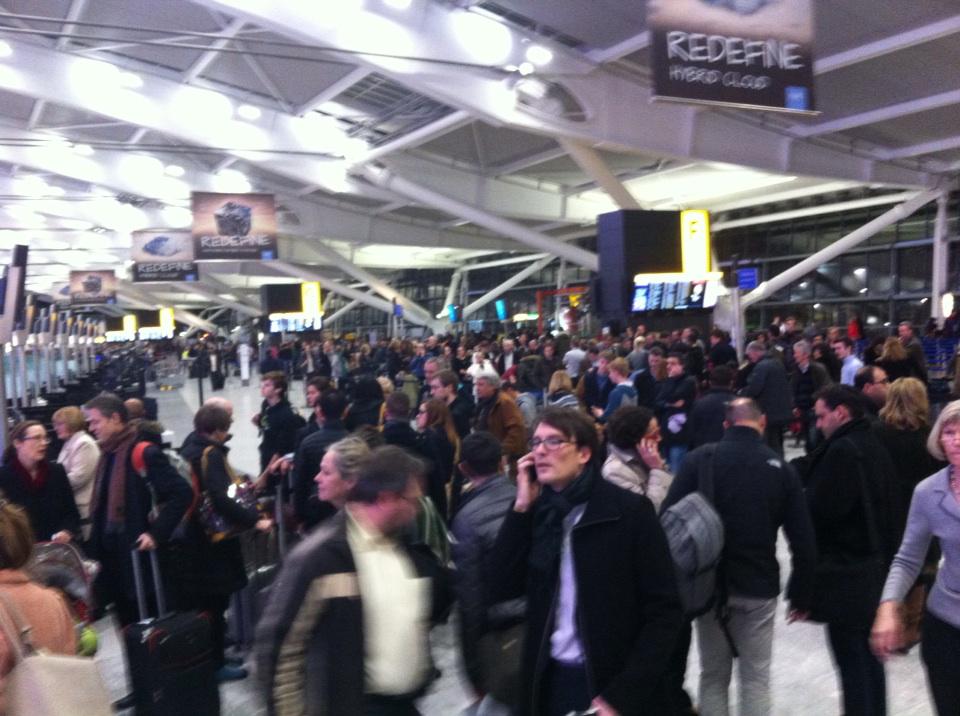 Professor Martyn Thomas, visiting professor of Software Engineering at the University of Oxford reviewed the technical changes made in response to a few computer failures in the early 2000s.
He said today: "Some of Nats' computer systems are very old - the National Airspace System that performs flight data processing is software that dates from the 1960s.
"Interfacing new systems to this old software can create difficulties.
"Nats has an outstanding safety record. They won't have compromised safety, which always takes priority over delays.
"But delays were inevitable once the controllers lost the support of their computer-based tools, because without the tools the controllers cannot handle as many simultaneous aircraft."
Advertisement
NATS has said that again apologised for any delays and the inconvenience that the air traffic failure may have caused.
It added: "We are investigating the cause of this fault but can confirm that contrary to some reports, it was not due to a power outage.
"Further information will be released as it becomes available."
The air traffic control centre at Swanwick in Hampshire which is at the centre of another computer glitch has endured a chequered history.
Read the full story ›
A passenger landing at Heathrow from Hamburg said he was told baggage handlers are unable to retrieve bags from the plane and they will have to be delivered at a later date.
His flight was sat on the tarmac for around an hour before disembarking.
Transport Secretary Patrick McLoughlin said: "Disruption on this scale is simply unacceptable and I have asked Nats for a full explanation of this evening's incident."
Load more updates