One hundred years ago Hastings Pier was ravaged by fire, almost a century before the 2010 blaze which devastated the Victorian structure.
Today the story of the 1917 fire is being retold - while the new pier goes from strength to strength.
Andy Dickenson reports and speaks to historian Dr Chris Kempshall and Jo Stewart from the Hastings Pier Charity.
Around 20,000 homes in Hampshire are currently without water following a burst main.
Homes in Chandler's Ford, Otterbourne and Chilworth have been affected.
The John Keble Primary School, in Hursley and Ampfield Primary near Romsey were also forced to close because there was no water supply.
Southern Water engineers have been working to fix the pipe, which is on farmland at Silkstead Lane in Hursley.
Rob Sanders, Headteacher, John Keble Primary School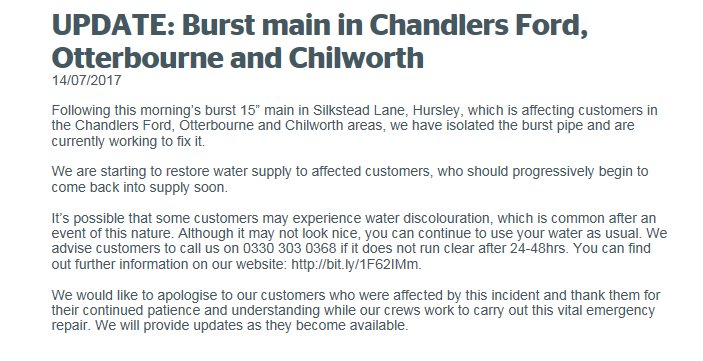 Advertisement
The Isle of Wight Council is calling for the Academies Enterprise Trust to hand back its schools there and leave all together.
Read the full story ›
Teachers and parents from Sussex have been at Westminster protesting about education funding cuts.
They were joined by actor and comedian Steve Coogan - who lives near Brighton. They say cuts to budgets have had devastating effects.
Actor and comedian Steve Coogan will be joining parents, children and teachers from Sussex and the Isle of Wight - to protest against education funding cuts today.
Tens of thousands of messages will be delivered to Downing Street pleading with the government to "Save our Schools". They say slashes to budgets have had devastating effects.
Sandown Bay Academy on the Isle of Wight will now be put back into special measures after a highly critical Ofsted report. It rated the school's leadership and management as "inadequate" and said the quality of teaching required improvement.
It's the first time the school has been inspected since December 2015 and comes as those in charge of the school plan to merge it with another secondary in Ryde seven miles away.
Inspectors said pupils have been 'let down' for too long and have not made enough progress. They criticised inconsistent teaching and poor management as well as saying that too many pupils are persistently absent.
The academy chain which runs the school - AET - the Academies Enterprise Trust - said they were very aware of the issues.
However, the report does highlight some positive aspects of the school including specialist provision for pupils with autism, the behaviour of pupils around the school and the strong sense of community support.
We are very aware of the issues in the Academy as well as its strengths, and fully take on board this report."

"We acknowledge, as we have already acknowledged elsewhere, that AET has not succeeded in driving forward the educational improvements at Sandown Bay that we would all wish to see, and we fully understand the problems and challenges standing in the way of pupils' progress."

"Many of these challenges stem from the underlying context within which Sandown Bay is working, where it has a falling student roll due to over-supply of secondary school places on the Isle of Wight, and as a result income has been falling steeply year-on-year."

"The resulting annual cycle of redundancies has put enormous pressures on staff and made it very difficult for the school to provide the resources and the teaching it needs."
– Academies Enterprise Trust
Advertisement
A troubled secondary school on the Isle of Wight which is facing an uncertain future received another blow today with the publication of a damning Ofsted report.
Sandown Bay Academy is now set to go back into special measures after inspectors criticised the running of the school and levels of achievement.
The report said that:
Pupils have been let down in the quality of education they receive for too long.
Inconsistencies in teaching mean the pace of learning overall is too slow.
Too many pupils are persistently absent
And it highlighted turbulent leadership and a loss of confidence in the academy chain running the school.
The Academies Enterprise Trust (AET) who are in charge said it's aware of the school's issues - as well as its strengths - and will address any weaknesses identified in the report.
Our Social Affairs Correspondent, Christine Alsford reports.
Families could be hit with new penalties for failing to get their children through the school gates punctually under expansion of fines.
Read the full story ›
Families in Medway say plans to close nineteen children's centres could have a severe impact on some of Kent's poorest and most vulnerable families. Parents met today after council consultation didn't appear to include an option to keep them open. Tony Green sent this.
Nearly 200 students with learning difficulties will get the chance to enjoy a trip on the water in Sussex - on a new, specially adapted, boat.
The Wheelyboat is a powerboat that can accommodate wheelchair users - and it's the first of it's kind for a school from Lingfield.
Costing over £40,000 - it's been partly paid for by the Wheelyboat Trust charity and through fund-raising by Young Epilepsy. Abigail Bracken reports.
Load more updates