A dolphin has been rescued after becoming distressed off Weymouth. It was spotted close to the shore around 9pm on Tuesday evening.
The dolphin was trying to make its way towards the beach. Several people tried to guide the creature back out to sea. Matthew Mahoney successfully guided it away from the beach into deeper water.
The dolphin was first spotted by Tim Newton, who shot the video, and his partner Giuseppe. They saw the dolphin getting into trouble from their Al Molo restaurant.
Opposition is mounting to the planned building of 12,000 new homes in the Kent countryside.
A new town, called Otterpool Park, has been earmarked for Lympne - between Ashford and Folkestone.
And there's not just anger at the scale of the proposed development. There's also dismay at a planned trip by Shepway councillors to the south of France to promote the new town. Tom Savvides talked to David Plumstead, campaigner, and David Monk, leader of Shepway Council (Con).
Advertisement
A wolf has been shot dead after escaping from a wildlife park.
Ember was discovered outside the perimeter fence at Cotswold Wildlife Park in Burford, Oxfordshire, at about 11am on Friday. Visitors to the park were told to stay indoors.
In a statement, the park said shooting the three-year-old Eurasian Wolf, which recently gave birth to five cubs, was a "last resort".
Tranquilisers would not have worked in this situation, a spokeswoman told ITV News, adding that it was an "incredibly sad" time for everyone at the park.
The park said in a statement: "Had there been any way to save her we would, of course, have taken it. Euthanasia is, and always would be, our last resort.
Earlier this year Ember gave birth to five cubs, the first wolves to be born at the park in its 47-year history.
Wiltshire is the world crop circle capital - with three quarters of all of the creations in the world appearing in the county's fields so far this summer. Some farmers cut the circles out immediately. But as Robert Murphy reports, one landowner is actually encouraging visitors.
Opponents are hoping to derail a major scheme in Kent which would see new council offices as well as a 1200-seat theatre built next to an historic town centre park.
No formal plans have been submitted for the £70 million project in Tunbridge Wells, but a petition from protesters has forced the council to debate the proposals at a meeting next week. Derek Johnson reports.
So much water is being taken out of rivers and groundwater sources - for public supplies and agriculture - that, according to the leading conservation charity, the WWF, our environment is facing long-term damage.
In a time of increasing pressure on our water supplies - with the South east now classed as under serious water stress - horticulture researchers from Kent say they have come up with a way to grow soft fruit using less water, fewer chemicals and even tastier strawberries!
Sarah Saunders reports.
Advertisement
Homes on the Shimmer estate in Doncaster will be bulldozed for the route linking the north-west, Yorkshire and East Midlands with London.
Read the full story ›
Shocking images of a woman and child standing just inches from the edge of a 400ft clifftop in Kent have triggered renewed safety warnings with the start of the school summer holidays due later this month.
This year has seen numerous major rockfalls along the the cliffs of Kent and Sussex and the Coastguard fears it's only a matter of time before the craze for cliff-edge phone-camera 'selfies' costs lives.
As John Ryall reports.
John spoke to photographer, Ted Pragnell and Matt Pavitt from HM Coastguard.
A burst water main which affected around 20,000 homes in Hampshire today has now been fixed, restoring the water supply to residents in Chandler's Ford, Otterbourne and Chilworth.
The John Keble Primary School, in Hursley and Ampfield Primary near Romsey were forced to close because there was no supply.
Southern Water is warning that residents may experience low-pressure for the next few hours.
Discolouration may also occur when you first start to run the water, which the company says is normal when the supply has been disrupted.
If this is the case, it is still safe to use as usual.
Southern Water is advising customers to call 0330 303 0368 if it does not run clear after 24-48hrs or if the low-pressure continues.
Further information can be found on their website.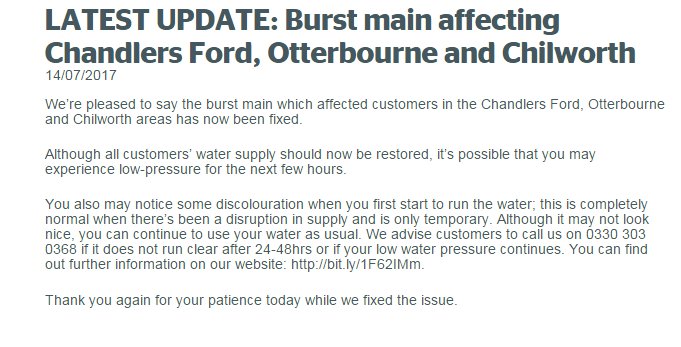 Around 20,000 homes in Hampshire are currently without water following a burst main.
Homes in Chandler's Ford, Otterbourne and Chilworth have been affected.
The John Keble Primary School, in Hursley and Ampfield Primary near Romsey were also forced to close because there was no water supply.
Southern Water engineers have been working to fix the pipe, which is on farmland at Silkstead Lane in Hursley.
Rob Sanders, Headteacher, John Keble Primary School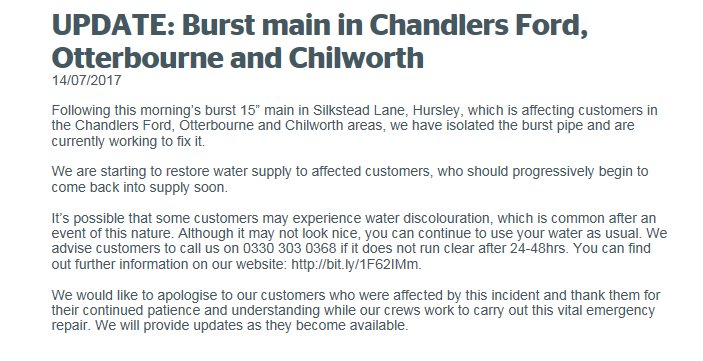 Load more updates