A damning report has highlighted how the Southern Health NHS Foundation Trust failed its patients and is still not doing enough to protect them.
Concerns were originally raised two years ago, about the organisation, which cares for people with mental health and learning disabilities across much of the South. The concerns were prompted by the death of Conor Sparrowhawk in Oxford, he drowned in the bath after having a seizure - he was not being supervised.
The Care Quality Commission report, released today highlights that most of the failings are down to poor leadership, but tonight the head of Southern Health - Katrina Percy is still in the job. The first person Rachel Hepworth speaks to in her report is Sara Ryan, Connor's mother.
A governor at a scandal-hit NHS trust where a teenager drowned in a bath resigned on Friday because his council has achieved "nothing at all".
In his resignation letter Mark Aspinall, a governor at Southern Health, accused colleagues of being "apathetic" and "intransigent", and said the Trust's council was "weak or unable to act".
He has spoken to ITV News Meridian about why he has stepped down and how the Trust have got it so wrong.
Advertisement
The Health Secretary said that the CQC had done an independent report, and he was sure that Southern Health would act on that and that lessons would be learned. At the same time the Health Secretary said that it was important to recognise that there were staff that were working hard and doing a good job at Southern Health.
The Southern Health NHS Foundation Trust has 250,000 patients and employs 9000 staff at more than 200 buildings.
The Department of Health has demanded that the trust makes improvements.
A Department of Health spokesperson said: "We know that over a period of several years, too many patients were shamefully let down by the standards of care provided at Southern Health.
"Since this inspection, the trust has developed an action plan and is working with regulators to improve safety.
"However we are clear that standards must improve dramatically — if they do not, we won't hesitate to take further action."
A governor at a scandal-hit NHS trust where a teenager drowned in a bath resigned on Friday because his council has achieved "nothing at all".
Mark Aspinall, a governor at Southern Health, accused colleagues of being "apathetic" and "intransigent", and said the Trust's council was "weak or unable to act".
Mr Aspinall, whose resignation follows chairman Mike Petter's resignation, described himself as "hamstrung" by the "constant barrage of critical news" hitting the Trust.
"I don't feel that the Council has achieved anything at all in the period that I have been a member", he wrote.
"I had hoped that we would be able to work well together to deliver for our patients and communities but sadly, there is more drum-banging, soap-boxing and agenda pushing taking place than anything else".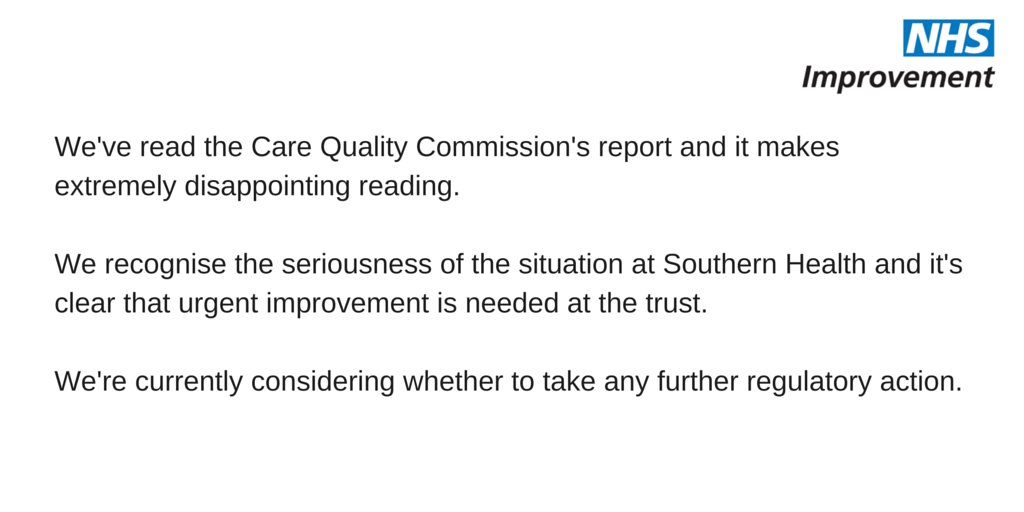 Advertisement
The Chief Executive of the Southern Health NHS Foundation Trust, Katrina Percy, issued the following statement in response to a critical report from the Care Quality Commission after an inspection of her organisation's services and care provision.
"Today's CQC report sends a clear message to the leadership of the Trust that more improvements must be delivered and as rapidly as possible. I want to reassure our patients, their families and carers that I am absolutely focused on addressing the CQC's concerns and supporting our staff to provide the best care possible.
As well as rightly highlighting areas of concern, I am pleased that the CQC recognises our staff's caring attitude to patients and the progress made in a number of units, including one of our community mental health teams our mental health inpatient units and our Child and Adolescent Mental Health services. This progress reflects the unwavering dedication of our staff, and my job is to make sure these improvements are now carried through consistently across all our services.
We fully accept that until we address all these concerns and our new reporting and investigating procedures introduced in December 2015 are completely effective, we will remain, rightly, under intense scrutiny. We will continue to share regular updates on progress publicly to demonstrate improvement and help re-build trust in our services."
The heart unit at Southampton Children's Hospital has been rated one of the best performing in the UK.
The National Congenital Heart Disease Audit Report showed it had one of the lowest death rates despite performing some of the most complex operations.
The Southampton centre, which works in partnership with Oxford Children's Hospital caring for more than 10,000 patients, performed 829 operations with a survival rate of 98.3% against a predicted score of 97%.
We are all working tirelessly to maintain the highest standards of treatment and care for our children and their families and are delighted to again be rated among the country's best-performing centres.

We will continue to grow and develop our service to ensure we remain at the forefront of developments in our field and provide the best possible service for children across the south of England."
– Dr Kevin Roman, Consultant Paediatric Cardiologist and Clinical Lead
Labour's Shadow Cabinet Minister for Mental Health, Luciana Berger, says a CQC report into Southern Health NHS Foundation Trust makes for 'really shocking reading'.
Her response comes after an inspection found the Trust had not made the required improvements since its failings were revealed in December.
Concerns were first raised about Southern Health after the death of 18-year-old Connor Sparrowhawk, who drowned in a bath at a care home in Oxford in 2013.
Two years after the tragic death of Connor Sparrowhawk and Southern Health NHS Foundation Trust is still not adequately protecting the thousands of people in its care.

For these failings to be allowed to continue is unacceptable. The lack of accountability, at the highest levels of the Trust, is beyond the pale. How many more people need to be let down for action to be taken? For patients and their families, this latest action plan is simply too little too late. They need to see robust action and real accountability and they need to see it now.
– Luciana Berger MP
The Deputy Chief Inspector of Hospitals and Lead for Mental Health with the Care Quality Commission issued the following statement on the release of the CQC's interim inspection report of the Southern Health NHS Trust.
Dr Paul Lelliott, said that in his opinion the trust's leadership showed few signs of being proactive about identifying risks to the people in its care - or for taking action to address such risks, unless concerns are raised by external organisations:
"Since the failings identified in the Mazars report, this Trust has, rightly, been under intense scrutiny. In December 2015 it introduced a new system for reporting and investigating incidents, including deaths. It is too early to gauge the effectiveness of the new process. However, our inspectors found that the quality of the incident reports and initial management assessments, conducted both before and after the introduction of the new procedures, varied considerably.

"We found that in spite of the best efforts of the staff, the key risks and actions to address them were not driving the senior leadership or board agenda. It is clear that the Trust had still missed opportunities to learn from adverse incidents and to take action to reduce the chance of similar events happening in the future.

"For example, although the Trust had identified that when people did not attend appointments, they could be at high risk of harm, there was no clear guidance for staff working in community mental health teams about what they should do when a patient does not attend an appointment.

"While all clinical staff had been informed of the new system for reporting incidents and patient deaths, we found on our inspection in January 2016 that some staff were still unsure of when and how to involve families, and it was not always clear what discussions or communications had taken place to involve families.

"We were also very concerned about the lack of action taken to address risk to people posed by the physical environment in which they were being cared for. For example, we asked the Trust to take immediate action to ensure patients who access the garden at Melbury Lodge do not climb onto the low roof. There have been a number of incidents of patients injuring themselves, some seriously, by falling from the roof, and of patients detained under the Mental Health Act absconding by that route. We issued a warning notice immediately following this inspection requiring the Trust that they must make improvements to ensure people's safety. We also told the Trust that they must put in place effective governance arrangements to ensure that patient safety incidents are investigated and learned from.

"I am concerned that the leadership of this Trust shows little evidence of being proactive in identifying risk to the people it cares for or of taking action to address that risk before concerns are raised by external bodies. Along with partners including NHS Improvement and NHS England, we will be monitoring progress extremely closely. We will be looking not only for evidence of improvements, but for evidence that this Board is actively planning to protect patients in their care from the risk of harm."
– Dr Paul Lelliott, Deputy Chief Inspector of Hospitals and Lead for Mental Health
Load more updates