Valentine's Day is coming soon. No doubt many of you will soon be rushing out to buy a bouquet of flowers.
This is the flower industry's busiest time of year. Flowers have long been associated with love and romance and, here in the UK, we'll be spending millions of pounds on them this weekend. Lauren Hall reports.
A key Portsmouth City Council meeting on budget cuts had to be temporarily stopped because of protests.
Demonstrators against proposed council cuts to domestic violence services in Portsmouth let off confetti in the chamber and chanted until they were removed.
The council has to find £11m of savings this year - and had proposed cutting funding to domestic abuse services by £130k. Today councillors announced that funding would be found to continue the service for this year at least.
A local tax rise of the maximum 3.99% for the next four years is also being proposed, as are cuts to the fire service.
Watch Sam Holder explain in a live report from outside Portsmouth Guildhall:
Advertisement
Women fearing budget cuts protest on city hall steps head of crunch meeting.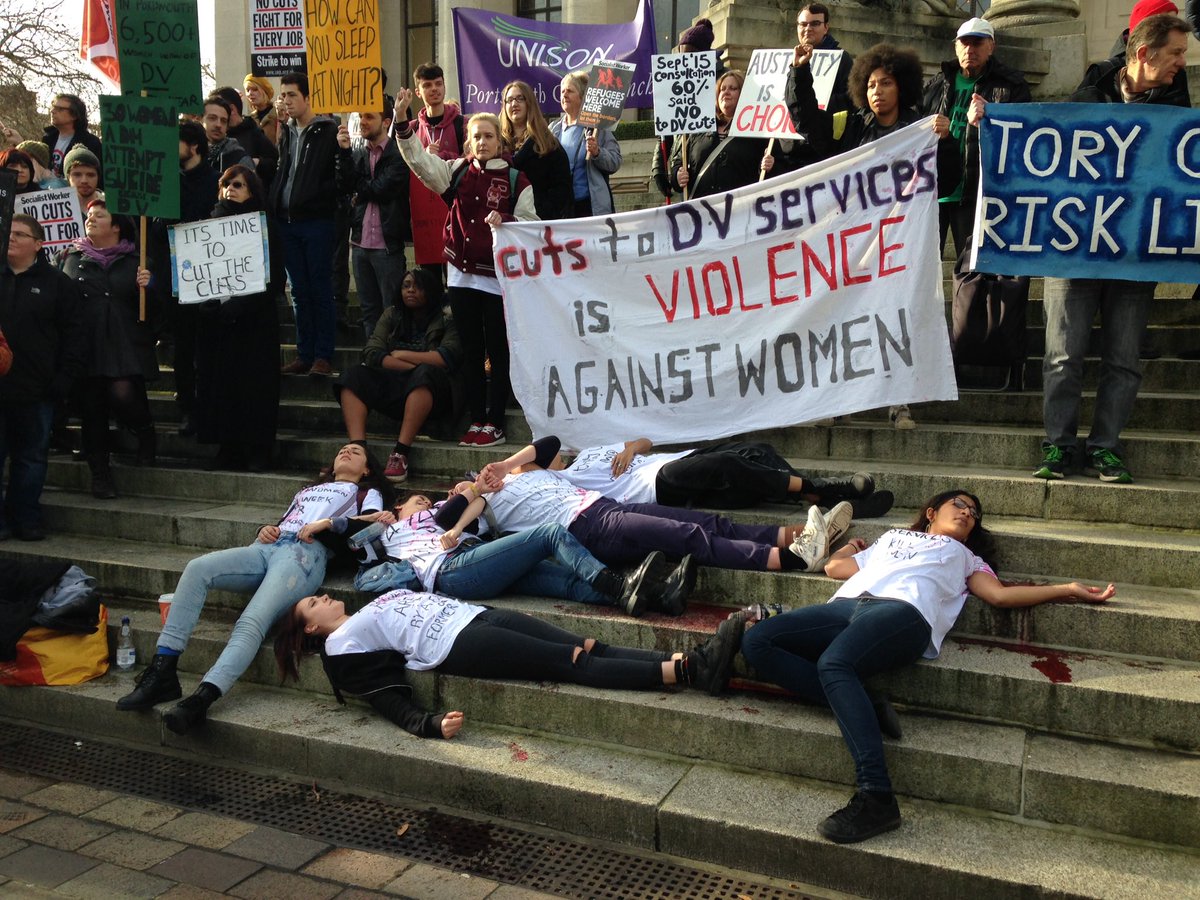 The city council has already made £74.4m of savings over the last five years. But city hall bosses needs to save at least another £31m over the three financial years from April 2016.
The £31m will have to come out of the £207m of spending under the council's control. Almost half of the £207m is spent on looking after vulnerable adults and children.
Protesters made their point to councillors outside a city hall budget meeting this afternoon in Portsmouth. The council needs to save £11 million this year. And £35 million over the next four years. A hundred council jobs could go, and council tax looks set to shoot up by its maximum 3.99 %
Member of the unite union are to stage a walk-out after Oxfordshire County Council voted to shut all forty four children centres - including in the prime minister's Witney constituency.
Unite, says cutting £8 million from its children services budget for 2016/17 – a 50 per cent funding cut - will hit families and young people hard. The union's members voted by 83 per cent in favour of strike action and will strike for 24 hours from midnight on 15 February to midnight on 16 February.
Councillors in Hampshire are due to consider how to balance the county council's budget later.
Its leader says it's facing its most "challenging period" - after forty eight million pounds was cut from the authority's government funding.
"We are facing the most challenging period of the prolonged national austerity measures. In Hampshire, this means having to deliver savings of £98 million by April 2017, rising to a further £140 million of savings by 2019/20."

"We have a strong reputation for careful financial planning, which has delivered £240 million of savings since 2008, but it's clear that having lost so much of our Government grant, future savings will become even harder to find.

"Our approach to date, has focused on running the County Council more efficiently by reducing the cost of back office functions; using savings to help protect front line services; and prudently using some reserves to manage the costs of change.

"We are proposing to continue applying these principles in the years ahead, as well as considering an increase in council tax for the first time in six years - an approach which was supported by the majority of people who fed back to us during our summer consultation.

"This option is being put forward because of the blow we received before Christmas when Government announced more drastic cuts to the local authority funding formula, which impact particularly badly on County Councils. This translates into a further £15 million gap in our budget by 2017/18 - and that's taking into account the amount we could receive if we put up council tax by just under 4% each year, in line with the Government's expectations. "The percentage includes 2% to help specifically fund adult social care - even though this only provides £10 million against anticipated costs of £35 million in adult social care, next year."
– County Council Leader, Councillor Roy Perry
Advertisement
A soup kitchen in Oxford is appealing for more volunteers amid fears council cuts will make it busier than ever.
The community kitchen in Cowley is open twice a day and often feeds up to fifty people. It doesn't get any funding from the council - but is worried drastic changes in frontline services will put it under extra pressure. Kate Bunkall reports.
The interviewee is Icolyn Smith from the Oxford Community Soup Kitchen.
Almost 200 jobs are to go - and some services will be merged as Southampton City Council, once again, struggles to balance its books. Today, council leaders confirmed the scale of the savings needed.
One hundred and ninety jobs will be axed this year, with 40 posts to go immediately. Council tax in the area will rise by almost two percent - for the fourth year running. There is a £12 million financial black hole, and the authority needs to save £40 million over the next four years. Juliette Fletcher reports.
The interviewees are Councillor Simon Letts, Leader of Southampton City Council, Labour; and Hayley Garner from the Unison trade union.
As the seven-day countdown to the Self Assessment deadline begins, HM Revenue and Customs (HMRC) has revealed the top five most outrageous personal expenses claims included in last year's Self Assessment tax returns.
The spurious expenses range from furnishing a new flat to the meagre cost of storing Mars bars overnight in a fridge. Here's the full list of bizarre expenses that some taxpayers have tried, and failed, to claim for:
The costs for storing Mars bars overnight in a fridge

The cost of a pair of flip flops so I don't have to walk barefoot between my work's changing and shower rooms

The costs for my intimate waxing

I bought a second hand car to get me from home to work so I didn't have to walk

I purchased my own flat, so I need to claim back the money I spent on the furniture.
There is now only one week left to submit your 2014-15 online tax return, and pay what you owe, to HMRC to avoid a £100 late return penalty.
Ruth Owen, HMRC Director General of Personal Tax, said:
"There are a number of items and expenses that people can claim against, such as genuine business costs and items needed to do a job. But a painful beauty regime or the furniture for your own home are not items that every taxpayer in the country should be contributing towards. It's wrong that a small minority of people expect the honest majority to subsidise their lifestyle and HMRC will never allow for these to be processed as genuine claims.

With one week to go until the 31 January deadline it's best to complete your tax return sooner rather than later. Our online service is quick and simple to use, with lots of helpful information – completing your tax return is easier than you think."
– Ruth Owen
Around 2 million people in the following South East postcode areas complete a Self Assessment return:
SOUTH EAST 2m Brighton - 174,000 Canterbury - 85,000 Dartford - 75,000 Guildford - 186,000 Medway - 105,000 Oxford - 133,000 Portsmouth - 149,000 Reading - 176,000 Southampton - 132,000
The price of school meals in Hampshire are set to rise - the first increase in six years.
The County Council says it's due to a rising cost of ingredients and staffing costs. The 10p increase will come into effect in April.
Load more updates