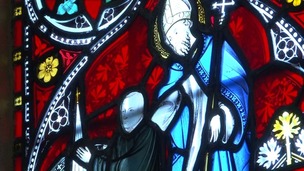 An iconic church in Ramsgate is in line for a hundreds of thousands of pounds of lottery cash.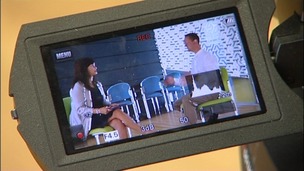 Universities in the South are pioneering a brand new way to learn. Why go to lectures if your lectures can come to you?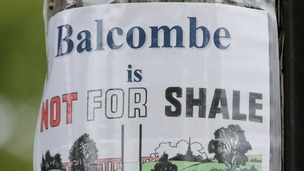 George Osborne has unveiled tax breaks for controversial fracking in a bid to create the "most generous" regime for shale gas in the world.
Live updates
SUPERSTORE RAM-RAID
Ram-raiders with a stolen mechanical digger have ripped two cash machines from Tesco in Grove Green, near Maidstone in Kent. John Ryall reports.
Santa grotto for dogs
A Santa's grotto for dogs has been set up in Sussex to raise money for charity. More than a hundred dogs and their owners met Father Christmas at the House of Hugo pet centre in Shoreham. It's thought to be the only one of its kind in the UK.
Owner Leon Henderson-Rood and Naomi Tucker from The Dogs Trust charity explain what it's all about.
Advertisement
A man's been describing the moment a motorist crashed into his home, demolishing his front room as he watched TV.
Steve Bird says he thought a bomb had gone off when the car sent an iron gate smashing into his house.
The incident happened on Newington Road in Ramsgate where Mr Bird says there's been a history of drivers travelling at speed. He's now campaigning for speed restrictions to be introduced.
Nashreen Issa has been speaking with him, his partner Gill Mary Stevens and also Will Scobie, who is the parliamentary Labour candidate for Thanet South and a Kent County Councillor.
£64m cutbacks in Oxfordshire
It's been a day of winners and losers for part of the Thames Valley. Children's centre's in Oxfordshire have been saved but £64m is to be cut from services over the next four years. Cary Johnston reports.
1,100 jobs at risk at HP
HP commenced consultation for Q1 FY14 on November 28th, 2013 in the UK regarding potential workforce changes for 2014. _The proposed UK workforce management plan is part of HP's global multi-year productivity initiative that was announced on May 23, 2012, and updated at its Securities Analysts Meeting on October 9, 2013, to address current market and business pressures in support of HP's turnaround in EMEA.
– Hewlett Packard spokesperson
HP remains committed to supporting the employability of its employees through a number of internal initiatives, including re-skilling, redeployment and support to obtain alternative employment as appropriate.
– Hewlett Packard spokesperson
1,100 jobs at risk at HP
For the last five years HP has been addicted to a culture of job cuts in the UK to such an extent that its highly skilled workforce has little faith in the way the company is being managed and will be going forward. Unite will be doing everything possible to mitigate these job losses which are a hammer blow to the UK's IT sector and very distressing for employees in the run-up to Christmas.
– Unite national officer, Ian Tonks
Advertisement
1,100 jobs at risk at HP
More than 1100 jobs at Hewlett Packard (HP) are to be lost at the beginning of 2014 - just under a months time.
A total of 618 jobs could be lost at the company's Bracknell base. Many of those facing redundancy either work from home or within the organisations employing HP.
The company blamed falling demand and reorganisation for the job losses that it wants to implement in the first three months of 2014.
Cyber Monday spending spree
Pay-day loan protest
With household budgets under pressure, there's a warning that many families in the South may take on quick-fix loans just to get through the cost of Christmas next month - and pay for it in the New Year.
Today in Southampton protesters gathered outside businesses offering pay-day loans, to highlight the possible dangers of high interest debt. Mel Bloor reports.
Woman avoids jail after £9K benefits fraud conviction
A 46-year-old woman has been given a suspended 12 week custodial sentence after pleading guilty to benefit fraud after dishonestly claiming over £9000.
Penny Smith was charged with dishonestly obtaining Housing Benefit, Council Tax Benefit and Income Support between July 2011 and February 2013.
Mrs Smith, from St Ebbes, claimed a total of £9075.33 and was sentenced at Oxford Magistrates' Court to 12 weeks custody suspended for 12 months. She also has to obey a three month curfew between the hours of 6pm and 6am as well as paying £350 costs.
She will have to pay back the overpaid benefit to both Oxford City Council and the Department for Work and Pensions.
Load more updates