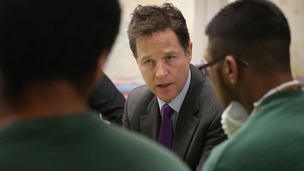 The Deputy Prime Minister Nick Clegg and the Justice Secretary have visited Kent to announced plans to tackle youth reoffending.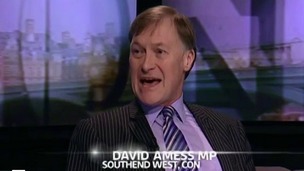 The Last Word - lively political debate to kick off the year in Parliament.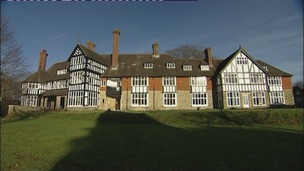 Plans to bus hundreds of children from the deprived inner city to the heart of the South Downs National Park will be decided this week.
Live updates
Lost and found: Beaver spotted under a car
The wettest winter on record saturated the South East and disrupted many lives. Some were made homeless including a beaver- who lost his way a little in the floods. Nashreen Issa speaks to Peter Smith from the Wildwood Trust.
Residents anger as dredging rivers has 'ground to a halt'
The worst floods seen in the South East for decades were "a disaster waiting to happen".
That's the view of riverside residents in Kent who say dredging and river maintenance has ground to a halt under the Environment Agency.
Sevenoaks MP Michael Fallon agrees with them, describing the Environment Agency as no longer fit for purpose. But the Agency says it does just as good a job as its predecessor the National Rivers Authority. John Ryall spoke to Mr Fallon as well as residents Huw Alban Davies and Roy Newing.
Advertisement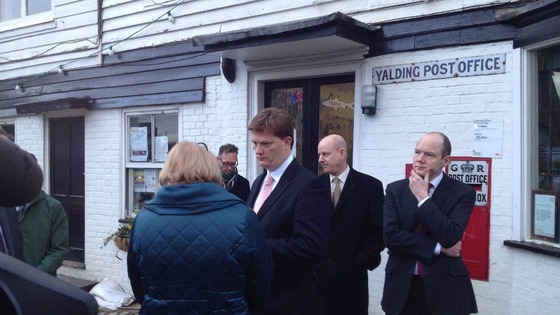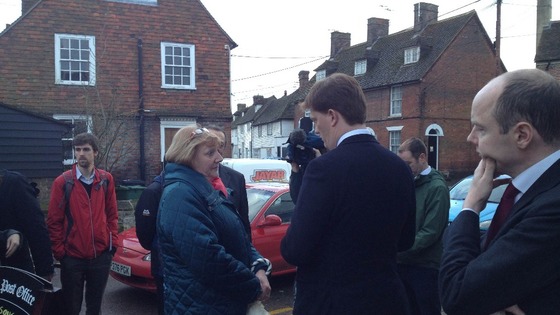 A senior cabinet minister is visiting Yalding in Kent this afternoon. Danny Alexander MP, the Chief Secretary to the Treasury is meeting people whose homes have been affected by flooding.
The minister is expected to make an announcement about help for those who need to make claims on their insurance for damage to property and possessions.
Prime Minister warns of more floods next week
Prime Minister warns of more floods next week
River levels remain high, fast flowing and out of their banks in some places. Please avoid towpaths in such areas. #oxonflood
Prime Minister warns of more floods next week
David Cameron has unveiled a £10 million package of support for businesses hit by the floods.
Small and medium sized businesses will be able to access the funds to help with clean up costs and to keep trading throughout.
A helpline will also open to give advice, as well as 'no penalty charges' for those who are late filing accounts because of the crisis.
The Prime Minister has said:
The Government is taking action across the board to deal with the clear-up

and help hard-working people affected by the floods.

Dealing with these floods will be a long haul, requiring a stepped-up

national effort with the whole country pulling together.

We will continue to help the people who need help and protect the

communities that need protecting."
– David Cameron, Prime Minister
Advertisement
Prime Minister warns of more floods next week
The Environment Agency (EA) said 16 severe flood warnings remain in place for the South West and the Thames Valley, with almost 130 flood warnings and more than 180 flood alerts.
Mr Cameron has been monitoring efforts to control the flooding in Oxfordshire where his constituency is, in Witney.
The recent flooding has been a tragedy for all those affected and my thoughts are with them. While it is of no comfort to those individuals, over 1.3 million other homes have been protected since December and we will continue to invest in flood defence measures to protect even more.
– David Cameron, Prime Minister

He said tonight: "I am hopeful that the work to strengthen long-term flood defences, and the emergency measures which have been put in place over recent days and weeks will mean that we can minimise the number of homes and businesses affected by the latest high water levels.
Prime Minister warns of more floods next week
The Prime Minister chaired another meeting of the Government's Cobra emergency committee this evening as the huge clean-up operation was getting underway.
But many areas of flood-hit Britain must prepare for water levels to rise once again as further rain is forecast over the coming days, bringing further misery to residents whose homes have already been flooded.
Swathes of the UK remain on high alert as people battle to protect their homes and communities from the floodwaters, which are still expected to rise in places despite today's calmer conditions.
Prime Minister's promises to Commons over flooding
Alok Sharma, MP for Reading West, spoke in the House of Commons at Prime MInister's Questions. He thanked emergency crews and volunteers for helping residents in his constituency and beyond; and pressed the Prime Minister to ensure that the details of flood help announced today would be publicised.
Prime Minister's promises to Commons over flooding
Load more updates