School and college students from Canterbury have taken part in an ITV News Schools Election Debate.
Read the full story ›
Comedian and budding MP Al Murray turned up in Margate to hand in his general election nomination papers - in a fire engine converted into a pub.
Murray, in his guise as the Pub Landlord, pulled frothy pints from beer taps on the side of the old fire engine outside Thanet District Council's offices.
Murray then went inside to hand over papers so he can stand for his Free United Kingdom Party (FUKP) against Ukip leader Nigel Farage in South Thanet.
Advertisement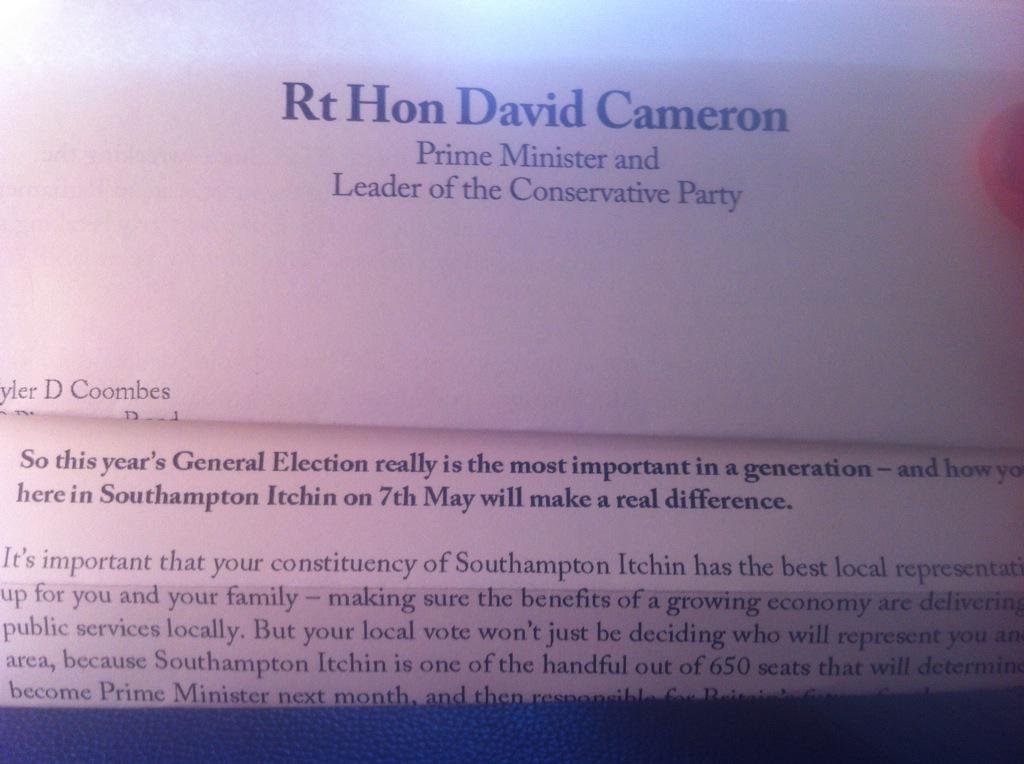 An election campaign letter from Prime Minister David Cameron spelled a constituency name wrong three times.
Letters were sent to residents in Southampton Itchen constituency with the area spelt "Itchin".
Local resident Tyler Coombes tweeted Mr Cameron saying the error was "poor"
A Conservative Party spokesman said it was "an honest mistake".
David Cameron has been enjoying a barbecue in Dorset today - but he wasn't relaxing from the campaign trail.
He met constituents at Lytchett Matravers where topics on conversation included the new pension plans which came into force today. The tories are targetting the Mid Dorset and North Poole seat, currently held by the Liberal Democrats with a majority of just 269 votes.
Voters across the South have been reacting to last night's Leaders' Debate on ITV. Find out what our groups of undecided voters thought. The same as you maybe? Richard Jones reports
'Floating voters' in the region have been telling ITV Meridian the questions they want answers to at the ITV Leaders' Debates.
Read the full story ›
Advertisement
ITV's leaders' debate programme will be a test for all of the heads of the political parties but deciding who won or lost is not the point.
Read the full story ›
Kate Bunkell has our first election profile - looking at key constituencies across the region.
Load more updates