Scientists in Portsmouth are asking the public to keep an eye on the love lives of lugworms as part of a research project.
Read the full story ›
A 'virtual reality lab' has been set up as part of Brighton's Digital Festival.
From Friday visitors to the city's Old Market venue will be able to experience more than 15 different immersive worlds, including one that lets users view 'through the eyes of animals' - as Robin McNicholas explains.
The largest of its kind in the country, the Digital Festival runs until the end of the month.
Advertisement
Father William Beaver, 70, said his sight is slowly returning following the pioneering procedure - praised by surgeons as the "future".
Read the full story ›
A team of six crew members, including one from Oxfordshire, have completed a year-long experiment in Hawaii which mimicked life on Mars.
Read the full story ›
Health campaigners are today calling for the NHS to fill what they say is a 'black hole' in care across the South East.
Muscular Dystrophy UK says Trusts across our region are putting thousands of children and adults' lives at risk - by failing to employ a single specialist health advisor.
Despite four such experts in the South West, and 57 more across the country, the South East has none.
Andy Dickenson reports and speaks to Jordan and Sarah Wright, and Nic Bungay from Muscular Dystrophy UK.
The world's biggest airshow is in Hampshire this week. But orders are down, and new safety rules have been introduced after Shoreham.
Read the full story ›
Advertisement
The Sussex astronaut Major Tim Peake says he would return to space in a heartbeat, but is looking forward to spending time with his family. He was speaking at a press conference from the European Space Agency's base in Germany.
The conference was an opportunity for him to share some of his experiences and explain what it is like, now that he is back on earth.
When asked by a newspaper journalist from Oxfordshire about his thoughts on the science park at Harwell in the county, he said the complex provided a valuable service.
After one hundred and eighty six days in space, Major Tim Peake has returned to earth. The astronaut from Westbourne, near Chichester in Sussex, left the International Space Station to land in Kazakhstan this morning. His journey and willingness to share his experiences with the world have inspired children and adults alike. Mary Stanley reports
Major Tim Peake may have enjoyed a textbook return to earth but he may face a bumpy landing at the traditional welcome ceremony in Kazakhstan, reports ITV News producer Patrick Russell.
The British astronaut and his two colleagues are due to arrive on the windy runway in Karaganda in two hours for an event which will see the trio given gifts of bread and salt and a traditional Kazakh hat.
Sorry, this content isn't available on your device.
One of Major Tim Peake's first acts after returning safely to land was to phone his family, the European Space Agency has revealed.
It shared a photograph of the British astronaut smiling during the call home.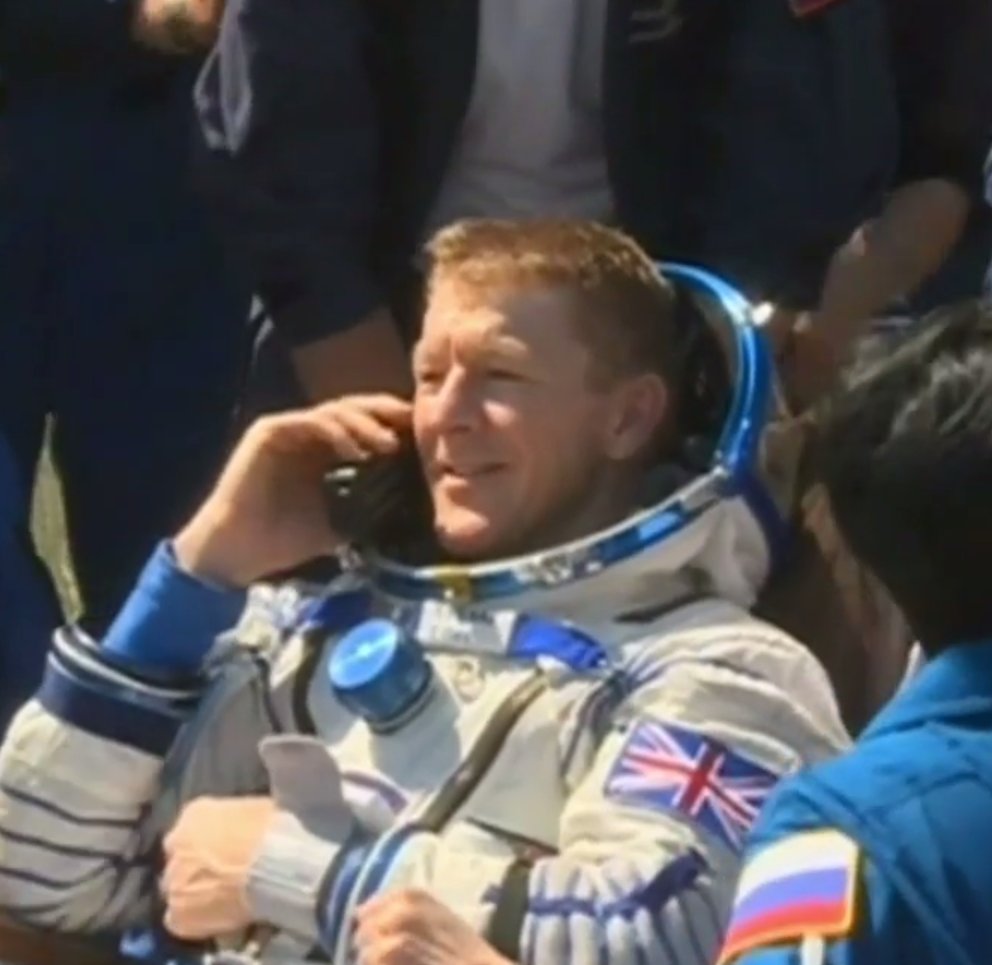 Meanwhile, Major Peake's parents were pictured watching on proudly as the Briton returned after six months in space.
The astronaut and his two colleagues are due to attend a traditional welcoming ceremony in Kazakhstan, after which Major Peake will have to climb back on a plane to the European Astronaut Centre in Cologne, Germany.
Load more updates