There are 446 results for "ashford"
Two dead and seven injured in serious crash on M26
In attendance at a serious RTC On the M26. Roads will be closed for some time. Please take alternative routes. #secamb #kfrs #kentpolice
Motorbike crash in Sussex
A motorcyclist has been seriously injured following a collision with a car in Sussex.
The emergency services were called to Lydd Road, near Camber Sands, at 3.55pm on Sunday to a crash between a car and motorbike.
A red Toyota Corolla was turning into the car park when an orange Kawasaki appeared to lose control and the rider came off.
The 45-year-old rider from Ashford suffered serious injuries and the driver of the car from London was unharmed.
Anyone with information should contact Sussex Police on 101.
Advertisement
Man killed in M20 collision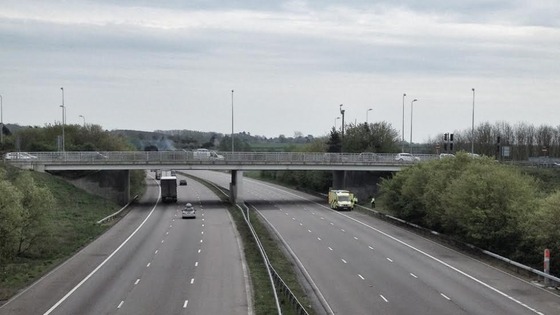 A man has died after he was hit by a lorry on the M20 near Ashford on Saturday afternoon.
Kent Police was called at 2.10pm by witnesses who reported seeing the collision in lane one after the man stopped his car on the hard shoulder and got out.
He was a 53-year-old man from the Hastings area and his family has been informed.
The London-bound carriageway between junctions 10 and 9 was closed until 8.15pm to allow the incident to be fully investigated. The lorry driver has not been arrested and a report is being prepared by for HM Coroner.
Last straw for home owner as bales crash into house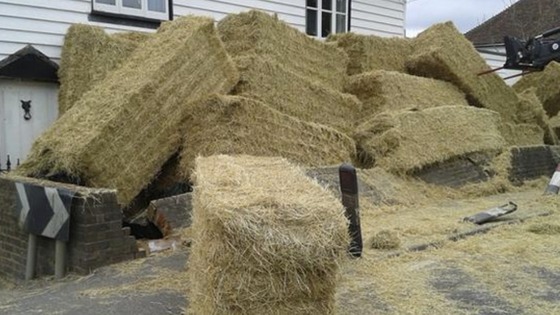 A house in Kent was plunged into darkness after bales of hay fell from a lorry. Mark Oliver, of Forge House, was sitting in his living room watching television when he heard a crash. A lorry driving along Ashford Road, in Bethersden, lost its load near Forge Corner.
Around 20 bales crashed into the house, knocking down the front wall. No one was injured.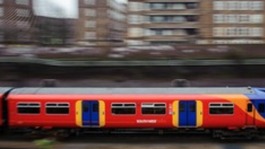 The biggest ever investment plan for the regions rail network has just been announced.
Read the full story
Lightning strike causes rail chaos across Kent
Hundreds of Eurostar passengers were delayed after a lightning strike on the UK side of the Channel Tunnel. Lightning triggered a fire at a building close to the Kent entrance to the tunnel, at Ashford, last night, causing delays to Eurostar services.
The services are now running normally this morning.
Four trains were affected - two from Paris to London, one from Brussels to London and one from London to Paris. The only one that didn't make it was London to Paris because of a delay after the lightning, so went back to London."
– Pierre Delalande, Eurostar

Customers were offered taxis and hotels where necessary, he added.
Advertisement
Lightning strike causes rail chaos across Kent
A spokesperson from Southeastern has confirmed that 4 or 5 substations were on fire as a result of a lightning strike in Folkestone earlier this evening. That strike took out the power on the line between Dover priory and Ashford.
There are now signalling problems between Dover Priory, Ashford and Folkestone. Hundreds of passengers are thought to have been affected by delays.
Lightning strike causes rail chaos across Kent
#AshfordInt Buses are now replacing trains between Ashford international and Dover Priory
Lightning strike causes rail chaos across Kent
Owing to lightning having damaged equipment at Dover Priory some lines are blocked. 1/3
18:03 Charing Cross to Folkestone Central due 19:45 will be terminated at Ashford International due to lightning having damaged equipment.
18:21 London Charing Cross to Ramsgate due 20:48 will be terminated at Ashford International.
Donations flood in after cyclist is killed during charity race
A man from the Ashford area has died after a collision on the A2990 in Kent.
Police were called just after 4am today to a collision between a cyclist and a blue Peugeot 206 near Chestfield, Whitstable.
The cyclist was declared dead at the scene.
Load more results