Twin Sails Bridge opens
The South's latest landmark, costing £40m, officially opens today. The Twin Sails bridge in Poole is designed to ease congestion between the town and Hamworthy.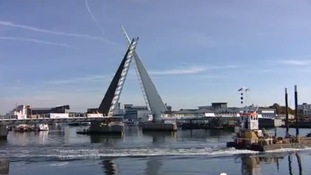 1,500 people are to attend a party amid a royal visit to the new Twin Sails bridge opened in Dorset on Friday.
Read the full story
The South's latest landmark, costing £40m, officially opens today. The Twin Sails in Poole is designed to ease congestion between the town and Hamworthy. Celebrations are planned to mark the opening, with a visit from the Princess Royal on Monday
Advertisement
Back to top