New Gallery for Hastings
Kent's latest cultural centre opens its doors this weekend. But the £4 million Jerwood Art Gallery is not without controversy.
Visitors have had their first chance to look around a new art gallery in East Sussex. The £4m Jerwood Gallery in Hastings showcases paintings from the 20th and 21st centuries. The project is part of a £9m redevelopment of the Stade.
The £4m Jerwood art gallery in Hastings opens its doors tomorrow at 10am.
The building, on the seafront by the fishing fleet, houses a collection of paintings from artists such as Rose Wylie from Kent, L.S. Lowrie, and David Bomberg.
It's hoped the venue will help to revitalise the town though some people feel it's in the wrong place and too costly - £2 for locals and £7 for non-residents.
Time will tell if this gallery can exert the same effect on Hastings as the Turner Contemporary has on Margate in Kent.
Advertisement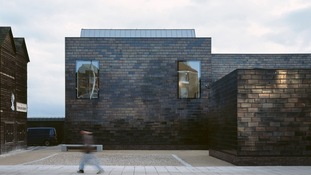 The South East's latest cultural centre opens tomorrow with the promise it will regenerate the local area - but not everyone is convinced.
Read the full story
Back to top