Third runway at Heathrow
There have been reports that a third runway at Heathrow could be back on the political agenda.
A row has broken out over plans to revive expansion plans at Heathrow by building a third runway. The Government has previously ruled it out but reports suggest Chancellor George Osborne is pushing for the idea to be reconsidered. Our political correspondent Phil Hornby reports.
A pressure group has responded with scepticism to claims that there could be a third runway at Heathrow Airport. HACAN represents residents living under the airport's flight path. The group's chair said talk of a third runway was just 'rumour and counter-rumour'.
"None of the recent stories that the Government is about to change its mind on Heathrow have been backed up with hard evidence. They have all relied on anonymous briefings. It is all rumour and counter-rumour. It suits a desperate aviation down to the ground to give the impression that expansion at Heathrow is back on the agenda. The statements from Government ministers – and, today, the Mayor of London – are consistent: they do not support a third runway.
– John Stewart, Chair, Heathrow Association for the Control of Aircraft Noise

John Stewart's statement follow comments from London Mayor Boris Johnson today saying he would not allow a third runway to be built at Heathrow.
Advertisement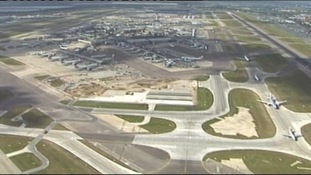 ITV Meridian's Transport Correspondent Mike Pearse has been looking at newspaper reports claiming Heathrow could get a third runway.
Read the full story
Back to top