Reading Half Marathon
A list of road closures ahead of the half marathon on Sunday.
Carla Shears, whose husband Jim Shears died during a fire at Shirley Towers in Southampton in 2010 - is to take part in Sunday's Reading Half Marathon. She'll join around 20,000 others on the 13.1 mile course around the town. She told ITV Meridian about her reason for running.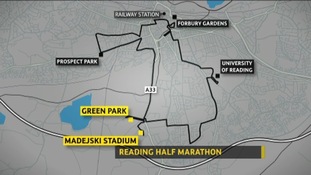 Drivers can expect severe delays on Sunday as a result of road closures for the Reading half marathon.
Read the full story
Advertisement
Back to top