£1,000 fine for hosepipe rebels
A number of water companies across the region have brought in a hosepipe ban to combat low water supplies and a drought. Anyone who flouts the ban could face a fine of up to £1,000.
The hosepipe ban for the South, which came into force at midnight, affects millions of householders across seven water company areas.
The Environment Agency says most reservoirs were now below normal levels and river flows were decreasing. It says two thirds of our rivers are experiencing exceptionally low water levels.
The water firms bringing in restrictions say they are investing significant resources in fixing leaks, but the Environment Agency wants them to do more. More than 3.3 billion litres a day was lost in leaks in 2010/2011, according to the regulator Ofwat.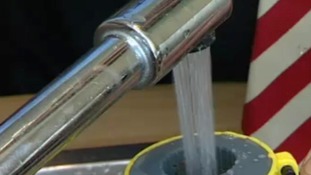 A hosepipe ban has come into force over much of the South today. Here some tips on how to save water.
Read the full story
Advertisement
A hosepipe ban is being brought in today by water companies in the South including Southern Water, South East Water, Veolia South East and Thames Water. The ban is being introduced because of a drought, and low water levels in reservoirs and aquifers.
Anyone who ignores the ban faces a fine of up to £1,000.
Back to top