Titanic graves: Halifax, Canada
The remains of passengers and crew were taken to Halifax after the Titanic disaster. Their families could not afford to pay for their return so they remain buried in the town's church yards.
by Mike Pearse - Transport Correspondent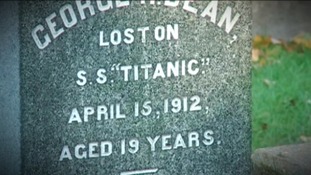 The Canadian town found itself responsible for many bodies recovered from the sea. Relatives could not afford to bring them home. .
Read the full story
The bodies of the Titanic dead were taken to Halifax where most are today buried. Halifax historian Blair Beed talks to Mike Pearse
Advertisement
Halifax the final resting place of hundreds of Titanic victims is hoping the more tourists will visit the town to hear about the areas unique heritage.
Hundreds of newspaper documents and items used to identify Titanic victims are to be displayed online for the first time.
Back to top