Gatwick emergency landing
Virgin Atlantic plane makes emergency landing at Gatwick
Pictures of the emergency landing at Gatwick Airport.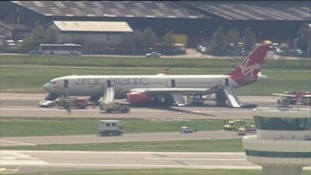 A Virgin Atlantic aircraft with more than 300 people on board has made an emergency landing at Gatwick.
Read the full story
Advertisement
Flights in and out of Gatwick were suspended today after an aircraft was forcedto make a full emergency landing due to a "technical issue". The Virgin A320 had left Gatwick bound for Orlando when it had to return to make the landing. Emergency services at the scene.
Gatwick emergency: Flight VS 27 from Gatwick to Orlando with 299 passengers on board and13 crew. Passengers were evacuated after plane turned round 40 mins into the flight. All believed to be safe.
Load more updates
Back to top