Bitter dispute over cruise ships
A major row between the Port of Southampton & its Liverpool rival continues, over the 'legality' of the northern city's entrance to the 'turnaround' cruise market. Liverpool welcomes its second ship later amid a bitter dispute over public subsidies.
Shipping Minister Mike Penning has written to John Denham, Labour MP for Southampton Itchen, to confirm that Liverpool City Council may have to pay a financial penalty for commencing it's port turnaround operations too early.
The fact that Liverpool City Council has now pre-empted the Commission and commenced turnaround before a State Aids decision has been made does leave it open, in the event of a finding of unlawful Aid, to the possibility of financial penalties, including repayment of grants from the European Regional Development Fund. This is however a matter for the Commission."
– Mike Penning MP, Parliamentary Under-Secretary of State for Transport.
I welcome the Minister's confirmation that Liverpool do not have permission to start cruises and may have to pay a penalty. But the Minister should be stepping in himself, not leaving it to Brussels to take action."
– Labour MP for Southampton Itchen
You're breaking the law - that's the accusation made by port officials in Southampton today as the war of words with Merseyside rival Liverpool reached boiling point.
The dispute has been simmering for months: Southampton determined to protect its business, Liverpool desperate for a share of the lucrative trade.
In the latest move the European Union says it's investigating and Liverpool could face heavy fines. Our transport correspondent Mike Pearse has more.
Advertisement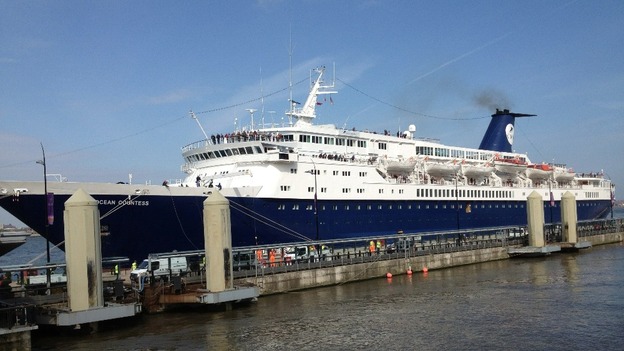 Our transport correspondent Mike Pearse has sent us this picture of the Ocean Countess arriving in Liverpool. The port there wants to operate as departure terminal for cruises, putting Southampton's cruise trade at risk. Firms in the south say what Liverpool's doing is against EU law.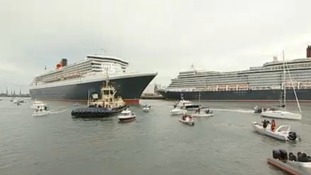 Exclusive report: Concern is growing in the South's cruise industry as new rival Liverpool welcomes its second ship of passengers ashore.
Read the full story
Back to top