Duchess of Cambridge in Kent
The Duchess of Cambridge has made her first official visit to Kent. She visited a primary school project which gives children at inner city schools the chance to explore the outdoors.
Kate visits children's centre
Here's Ian McBride's report on a visit by the Duchess of Cambridge to a children's centre in Kent.
Getting to know the Duchess
Advertisement
Cooking with Duchess Kate
Our reporter Iain McBride went to speak to children who met the Duchess to find out what she was like.
In her first visit to Kent, the Duchess of Cambridge has visited the 'Expanding Horizons' Primary School Scheme at Widehorizons Margaret McMillan House.
She met children from ARK's King Solomon Academy Primary and joined in their activities, including making a shelter, fire building and cooking.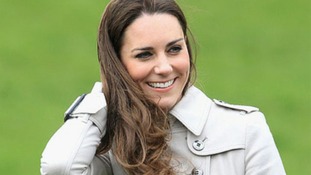 A royal visitor is in Kent. The Duchess of Cambridge is meeting children at a primary school project in Wrotham.
Read the full story
Back to top