Your weather for Monday
Will there be wet weather this weekend? Martyn Davies has the forecast.
Flood alerts in the Thames Valley
The Environment Agency has issued a flood warning for the River Thame from Marsworth to Dorchester including;
Long Marston
Rowsham
North Ayelsbury
Cuddington
Thame
Shabbington
Ickford
Waterperry
Cuddesdon
Wheatley
Quarrendon
Drayton
St Leonard
Overy
Low lying land and roads will be affected first.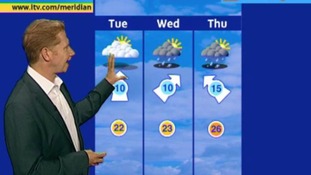 Advertisement
Simon Parkin has the forecast for the South
Wet weather for the weekend?
Back to top