Midnight: Last digital switchover
The last areas in the Meridian region to undergo the digital switchover will have their analogue signals switched off at midnight on Tuesday 26th June 2012.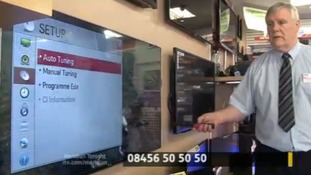 The last remaining analogue television signal in the Meridian region will be switched off at midnight on Tuesday 26 June.
Read the full story
The last analogue television channels will be switched off in Kent and parts of East Sussex today. The change will affect more than 450,000 households.
Analogue BBC One, ITV1, Channel 4 and Channel 5 will be turned off permanently at the Dover and Bluebell Hill transmitter groups.
People will then have to use digital receivers to watch television, for example Freeview or a cable or satellite set top box. For more advice on the Digital Switchover and how it could affect you click here.
Advertisement
Back to top