Armed police at railway stations
A major operation is underway to prevent a terrorist attack on the rail network during the Olympics
One thousand officers a day will be on duty during the Olympics in the biggest safety operation Transport Police in the south have ever staged.
Click below for the full report from our Transport Correspondent, Mike Pearse
A major operation is underway to prevent a terrorist attack on the rail network during the Olympic Games.
For the first time many passengers will see armed British Transport Police at our stations. Mike Pearse spoke to BTP Deputy Chief Constable Steve Thomas about the measures.
Advertisement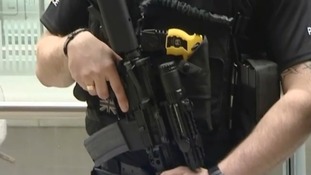 Olympics will see the biggest ever transport police operation to counter terrorism and pickpocketing.
Read the full story
Back to top