Millions spent on new trains
The fight to beat overcrowding in the Thames Valley will see the Government order a new fleet of Japenese style bullet trains.
Four and a half billion pounds will be spent on 600 carriages for the routes from Paddington to Reading, Newbury, Swindon, Oxford and Banbury.
It should lead to major improvements in the Thames Valley.
But a row has broken out about the contract being awarded to a Japenese company.
Click below for the full story
More than 900 jobs will be created and thousands more secured after Transport Secretary Justine Greening approved a £4.5bn contract to supply Britain with the next generation of intercity trains.
"A new train factory is fantastic news for Britain and will be welcomed by everyone who wants to see a thriving UK manufacturing sector. It means 730 new skilled jobs created at the factory, 200 jobs in constructing the plant and thousands of jobs secured in the supply chain.

"The decision to build almost 600 new intercity train carriages is great for rail passengers who will experience faster and more comfortable journeys when travelling across Britain on the East Coast and Great Western main lines.
– Justine Greening, Transport Secretary
Advertisement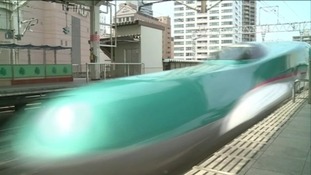 Meridian can reveal the Government will today order a new fleet of Japanese-style bullet trains to ease overcrowding in the Thames Valley.
Read the full story
Back to top