No ambulance for injured child
An NHS Trust has apologised after 5-year-old boy involved in a collision with a car, had to wait more than hour before being seen by paramedics. Police officers collected an ambulance and a Heli Med crew to treat the injured child.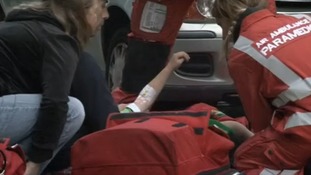 The Isle of Wight NHS Trust has apologies after a 5-year-old boy was forced to wait for more than an hour before receiving treatment.
Read the full story
The Isle of Wight NHS Trust has released a statement apologising after a young boy waited more than an hour before receiving treatment from paramedics.
The island's five emergency ambulances and one first responder crew were already dealing with "life threatening incidents" which meant that the service needed to call paramedics from the main land.
"We're extremely sorry that this child had to wait for an ambulance but regrettably all six of our vehicles were deployed on life threatening incidents elsewhere and whilst accepting the delay occurred the child's condition was closely monitored by our Clinical support desk team who had ascertained the child's injury were none life threatening and lower leg trauma related and were able to monitor the incident on CCTV from our emergency call centre on the Island.
– Chris Smith, Chief Ambulance Officer
Advertisement
A spokesperson for Hampshire Police has confirmed that their officers collected paramedics and then drove the victim of an accident to hospital, because of a shortage of available ambulances.
A 5-year-old boy was involved in an accident earlier this morning on Ryde High Street. Officers collected an ambulance from a nearby station, before driving to Ryde School to collect waiting air ambulance paramedics.
Officers then assisted in loading the boy onto a stretcher before driving the paramedics, the child and family members to a hospital in Newport.
It's understood that the child ran out into the road causing the accident.
Hampshire Constabulary can confirm that officers attending a collision in Ryde this morning assisted the Isle of Wight Ambulance Service in transporting a Heli Med crew to the scene and conveying the injured party to hospital.

The collision happened at 11:40 am in Ryde High Street and involved a Nissan Micra and a 5-year-old boy who was walking with family. The child sustained a broken leg and was taken to St Mary's Hospital in Newport for treatment.

The male driver of the Nissan was uninjured and no arrests have been made. **
– Hayley Court, Hampshire Police Spokesperson
A 5-year-old is receiving treatment in hospital on the Isle of Wight after being struck by a car.
It's understood that the boy ran out into the road and was hit by a green Nissan Micra just before midday.
The boy is receiving treatment for a suspected broken leg at St Mary's Hospital.
Back to top