College staff go on strike
Up to 200 members of staff are expected to go on strike this afternoon over planned redundancies at the multi-site 'K College' in Kent. The institution is around £11 million in debt.
by David Johns (@davidjohns_itv)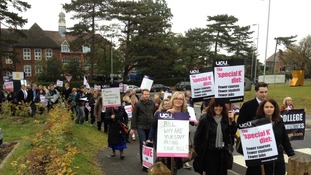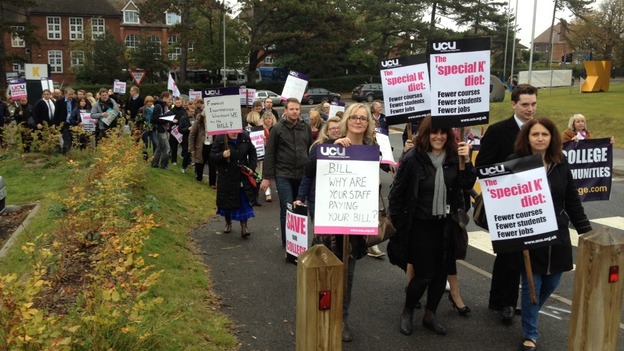 Protestor have begun to gather outside the Tonbridge campus of K College in Kent to protest about plans to cut up to 145 jobs.
The college, whch has campuses across the county, is 11 million pounds in debt.
Campaigners are also fighting proposals to shut down the Folkestone campus.
Advertisement
Around 200 members of staff at K College in Kent are expected to take industrial action on the afternoon of Monday October 8. They are protesting at plans to make up to 145 members of staff redundant, following revelations that the institution is £11 million in debt.
Managers and the board of governors are due to hold a meeting about the college's financial situation this afternoon. Protesters fighting the cuts have set up a campaign group called 'Save K College' which has its own social media page.
Back to top