£16m college debt - head resigns
The principal of a college in Kent that has amassed £16m of debts has resigned.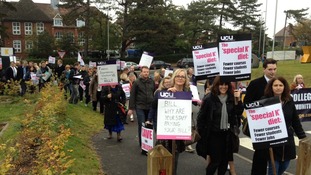 The Principal of K College in Kent has resigned a day after around 200 staff went on strike.
Read the full story
College head stands down after staff strike
The Principal of a college in Kent that is £16m in debt has resigned.
Bill Fearon will leave K College at Christmas.
It comes after campaigners went on strike at the college's Tonbridge campus yesterday over plans to cut a 145 jobs and sell off its Folkestone base
Advertisement
Back to top