Memorial for brothers in arms
For the past six months, Meridian correspondent Derek Johnson has been trying to trace the family of two twins from the Royal Sussex Regiment who were killed together on The Somme I'm 1916.
The search for the family of twin brothers from the Royal Sussex Regiment killed by the same shell on a Somme battlefield in 1916.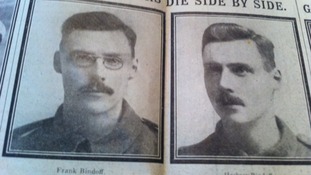 Advertisement
ITV Meridian spent months searching for the family of twin brothers killed together in World War One. Frank and Herbert Bindoff were Privates in the Royal Sussex Regiment and feature in an ongoing exhibition in Northern France about soldiers who went missing in action.
The brothers were blown up by the same shell during the Battle of The Somme in 1916. Curators believed the Bindoff's own family had lost touch with the story and so ITV Meridian asked genealogist Paul McNeil to trace the family tree in order to contact relatives.
He speaks to us about finding a letter written by the twins' mother, and about his efforts to trace the family.
On Sunday we remember the many servicemen and women who made the ultimate sacrifice in two World Wars. Millions died in the First World War alone including soldiers whose bodies were never found.
For the past six months Correspondent Derek Johnson has been trying to trace the family of two twins from the Royal Sussex Regiment who were killed together on The Somme I'm 1916. Here he previews his forthcoming reports
Back to top