Cruise ships hit by norovirus
There has been an outbreak of the contagious Norovirus on board the P&O Cruise ships Oriana and Azura. The Azura returned to Southampton on Saturday, a day after the Oriana returned from a ten-day tour of the Baltics.
A passenger on board a second cruise ship which was hit by the winter vomiting bug says many more were infected. P&O said there were only ten passengers showed symptoms of the norovirus on the Azura which docked in Southampton today. But Michael Edwards said the real figure was much higher.
The ship underwent a "deep clean" ahead of another sailing at 6pm tonight. The Azura came into Southampton a day after its sister ship, the Oriana, docked in the city after 417 outbreaks onboard during a ten day cruise to the Baltics. P&O said the safety of staff and crew were its top priority.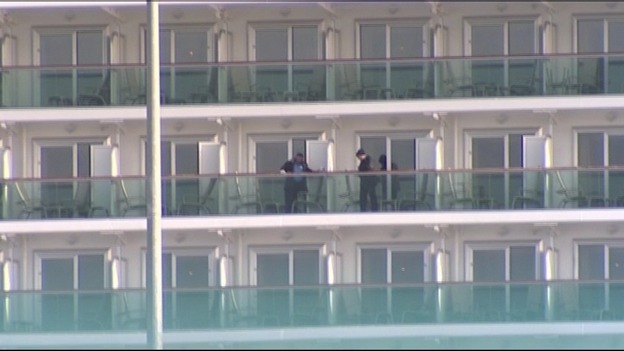 Staff have been "deep cleaning" the cruise ship Azura after she came into Southampton earlier. P&O said there were ten confirmed cases of passengers with the winter vomiting bug. But some passengers said the number of those infected with norovirus was higher. The Azura is due to sail again at 6pm.
Her arrival comes a day after her sister ship Oriana came into Southampton docks with 417 outbreaks during a 10-day cruise to the Baltics. P&O said the safety of its passengers and crews are its number one priority.
Advertisement
Fred spoke to Ian Clarke earlier. Ian is a professor of virology from Southampton University. Fred began by asking him what is norovirus and how do you catch it?
P&O Cruises has apologised to passengers who were affected by an outbreak of norovirus on one of its ships. More than three hundred people on the Oriana were struck down with the sickness bug during a ten day Christmas cruise.
The ship returned to Southampton this morning where it underwent extra cleaning. It is setting sail again in two hours time with hundreds more passengers to the Mediterranean. Andrew Pate has the story.
New passengers are preparing to board the Oriana cruise ship. Its after the ship has had a deep clean following an outbreak of Norovirus. The ship will depart again at 8pm this evening.
P&O Cruises has confirmed that there are 10 people with symptoms of Norovirus onboard the Azura cruise ship this evening. It is due to return to Southampton tomorrow following an 11-night Iberia cruise, which departed December 4. There are 3,059 passengers on board.
There has been an incidence of a mild gastrointestinal illness among the passengers onAzura. This illness is suspected to be Norovirus, which is highly contagious and typically transmitted from person to person. Norovirus is common throughout the UK, Europe and North America and has affected a number of schools, hospitals, nursing homes and children's day care centres.
– Spokesperson for P&O Cruises
Enhanced sanitation protocols have already been implemented to help minimize transmission to other passengers. These comprehensive disinfection protocols have been developed by P&O Cruises in conjunction with U.K. and U.S. public health authorities.
– Spokesperson for P&O Cruises
The safety and comfort of passengers and crew is always our number one priority. As is currently standard procedure across our fleet, all the ship's passengers were provided with a precautionary health notice advising of widespread Norovirus activity and the health measures to avoid contraction and spread, both on board and whilst ashore.
– Spokesperson for P&O Cruises
Advertisement
What are the symptoms?
Symptoms typically begin 24-48 hours after infection with the virus. Sudden onset of nausea is usually the first sign of infection, followed by vomiting and watery diarrhoea.
How do you catch Norovirus?
Through contact with an infected person, as well as contact with surfaces – such as door handles and tables – that are contaminated with the virus. It is also caught by consuming contaminated food or liquid.
How do you avoid catching Norovirus?
Wash your hands frequently and avoid raw and unwashed foods.
The cruise ship the Oriana is undergoing 'rigorous cleaning' this lunch time - after more than 300 passengers were struck down in an outbreak of the contagious Norovirus. The liner docked at Southampton this morning - at the end of a 10-day cruise to the Baltic. Andrew Pate has more.
Passengers have been sharing their stories of what happened on board the Oriana cruise ship during a Norovirus outbreak on board. The liner docked in Southampton today, returning from a 10-day Baltic cruise. We caught up with some of the travellers as they left the cruise terminal.
P & O Cruises have confirmed that 300 of the 1,843 passengers on board caught the contagious Norovirus vomiting sickness.
P & O have confirmed 300 of the 1,800 passengers on board the Oriana cruise ship were affected by the vomiting bug norovirus. Passengers left the ship this morning after it arrived in Southampton after a tour of the Baltics. The cruise company had said only nine people fell ill.
Load more updates
Back to top