Football fixtures for Boxing Day
The Boxing Day fixtures for tomorrow will be key matches for many of our teams. Here's the list of what's planned, but do check with the clubs' websites to see if the weather has forced any postponements.
by Sarah Gomme, Sports Correspondent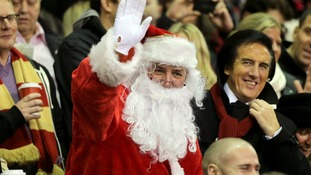 After defeat to Sunderland at St Mary's, Saints boss Nigel Adkins but described the team's performance as 'uncharacteristically flat'.
Read the full story
For those who want to get a breath of fresh air tomorrow and cheer off some Christmas excesses then there are tickets left for most of our football fixtures tomorrow. Full match coverage at on the ITV Sport website here. All 3pm kick-offs unless stated.
Fulham v Southampton
Reading v Swansea
Leyton Orient v Swindon Town
Bournemouth v Yeovil
Portsmouth v Crawley Town
Gillingham v Barnet (1 pm kick off)
Aldershot v Bristol Rovers
Exeter v Oxford United
Advertisement
Back to top