Series of fires in Winchester
The ice rink at Winchester had to be evacuated last night when a series of fires broke out across the city. A bin was set alight and pushed through a shop window while a box of books was destroyed near the Cathedral.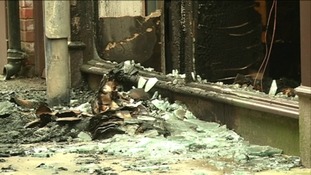 A man has been charged with arson after a series of fires in Winchester City Centre seriously damaged a shop and a listed building.
Read the full story
Clearly we are very disappointed by what has happened, especially as the Deanery Book Sale raises valuable funds to support the education for four of our Boy Choristers from generous donations of books given by many people throughout the year, and has done so since it was launched by a band of volunteers led by the previous Dean's wife, Tessa Till, some twelve years ago, and this tradition is carried on by the current residents of The Deanery. It is, of course, a great relief that nobody was harmed in the incident.
– Mrs Annabelle Boyes, Receiver General of Winchester Cathedral
Advertisement
A man has been arrested in connection with a series of fires in Winchester last night, which saw the ice rink evacuated. A bin was set alight and pushed through a shop window. Shortly afterwards emergency crews were called to the Cathedral Deanery, were boxes of antique books were on fire.
The flames caused an estimated £2,000-£3,000 worth of damage to the doors of the listed building and to a number of secondhand books, the value of which has not yet been established.
A man in is 40s has been arrested and is in custody.
This is a horrible start to the new year for Winchester. Any damage is hugely disappointing and will be costly for the businesses affected while the impact on some very old parts of our Cathedral will I know make local people very sad indeed. Early reports I am receiving suggest this is an isolated incident and the work of one disturbed individual. We need to quickly ascertain why they did this and ensure they not only face the full force of the law but fully face up to the people and property they have so clearly disrespected in a few moments of madness last night.
– Steve Brine, MP for Winchester & Chandler's Ford
Back to top