'Thunderbirds' creator's funeral
The funeral is to take place in Reading today of Gerry Anderson, the creator of the supermarionation television programme 'Thunderbirds'.
Thunderbirds creator honoured at funeral
Lady Penelope's iconic Rolls Royce
A full-size replica of Lady Penelope's Rolls Royce was on show at Gerry Anderon's funeral today. His family said they wanted the event to be a celebration of his "extraordinary" life.
Advertisement
Gerry Anderson's coffin, decorated with a floral replica of Thunderbird 2, is borne into the church for his funeral.
Paying respects to Gerry Anderson
Gerry Anderson's son Jamie makes a moving speech. Says dads 'work to help Alzheimer's Society is what he's most proud of.' @meridiantonight
From
@DivyaKohliITV
on Twitter:
Special arrival at funeral of creator of Thunderbirds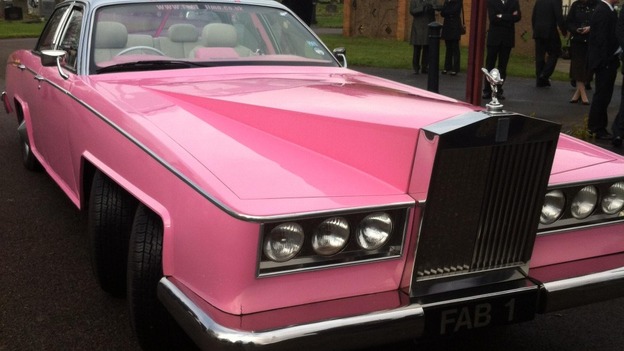 The funeral is taking place today of Thunderbirds creator Gerry Anderson.
Mourners have gathered in Caversham to pay tribute to Mr Anderson who died at the age of 83-year-old last month.
A replica of Lady Penelope's pink Rolls Royce has arrived at the service.
Thunderbirds creator Gerry Anderson's funeral today
The funeral is to take place in Reading today of the 'Thunderbirds' creator Gerry Anderson. The 83-year-old died at the age of 83 last month.
Advertisement
Back to top