Lib Dems win at Eastleigh
Lib Dems win at Eastleigh, narrowly defeating UKIP.
Here's our Political Editor Phil Hornby on the by-election battle's day and night.
He speaks to Lib Dem leader Nick Clegg, UKIP leader Nigel Farage, George Hollingbery, Conservative MP for Meon Valley, John Denham, Labour MP for Southampton Itchen, and Mike Thornton, Lib Dem MP for Eastleigh.
So, how did the people of Eastleigh feel when they woke up to the news this morning? Andrew Pate reports.
Advertisement
The borough of Eastleigh is returning to normal this lunchtime after three weeks of intensive campaigning. The Liberal Democrats have retained the seat, which became available when Chris Huhne resigned.
While UKIP had their best ever showing coming in second, ahead of the Conservatives. Andrew Pate has more.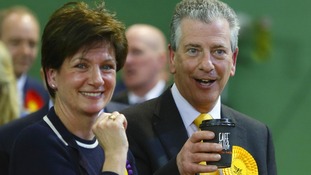 Liberal Democrat leader Nick Clegg has hailed his party's success in the Eastleigh by-election.
Read the full story
National
The Labour backbencher Austin Mitchell has described Labour finishing fourth in the Eastleigh by-election "a disaster":
Eastleigh disaster. Labour needs a nationalist appeal. The nation is being betrayed,weakened and sold down river.We sd say so
Read more: Labour Eastleigh candidate called a "loser" by his wife
Advertisement
National
The Conservative MP Conor Burns appears to blame local councillors rather than the central party leadership for the party's poor performance in the Eastleigh by-election:
The Eastleigh result is in no small part a consequence of withered local organisation caused by an absence of Council leadership or vision
Watch: Conservative candidate Maria Hutchings ignores reporters' questions
National
UKIP leader Nigel Farage has told a press conference that "never again" will people say voting for the party is a wasted vote, following the Eastleigh by-election where the party finished second.
He added that he intended to capitalise on the "tremor" UKIP had created in Eastleigh and turn it into a "national political earthquake" at the European elections next year.
Disappointing result in #Eastleigh but I'm confident we can win people back by delivering for those who work hard and want to get on.
National
The Labour party candidate John O'Farrell has tweeted on the morning after his defeat in the Eastleigh by election.
Mrs O'F just woke me with an affectionate 'Mornin' Loser!'
Had hoped more would switch from Lib to Lab. Some did, but as many of ours went to UKIP. Lab % share up slightly. Result feels OK in context
Load more updates
Back to top