Titanic: where was billionaire?
The billionaire behind plans to build a replica of the Titanic missed an official event marking the launch of the project this morning.
The Australian billionaire behind Titanic ll today failed to show up at his own launch event in Southampton. He plans to build a full size replica of the ship at an estimated cost of £350m. Fred and Sangeeta talked to our Transport Correspondent, Mike Pearse.
He may not have been there in person, but Clive Palmer still had a message for guests at the launch of plans to build a replica of Titanic.
In a recorded message, he told guests: "Why build Titanic? Because we can. Titanic will bring the ship back to life. It will be a tribute to those who died."
We will complete the journey. The ship will be a ship of peace carrying the hopes and dreams of people everywhere. By learning from the lessons of the past this is our moment. Titanic was the ship of dreams Titanic 2 will be a ship where dreams come true."
– Clive Palmer, on his plans to build a second Titanic
Advertisement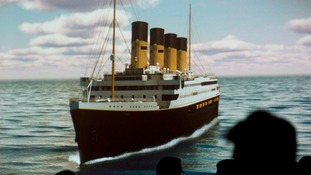 The Port of Southampton has yet to hear from those behind plans for a second Titanic. It'll need to grant permission to sail from the city.
Read the full story
The man behind Titanic II failed to turn up to his own launch event in Southampton this morning. Clive Palmer was due at a lavish breakfast to reveal more details about the plan. The billionaire says he will build a replica of the ship and sail it from Southampton I the years time.
160 VIPs including Lawrie McMenemy, the Mayor, Council and business leaders are at the Grand Cafe in the City to hear details of the controversial plan. Reactions are mixed with some enthusiastic about the plan. Other say the ship is in poor taste.
Billionaire Clive Palmer failed to turn up for the Titanic II launch in Southampton this morning. 160 VIPs were due to have breakfast with him to hear more details about the scheme. More later.
Back to top