Snow sweeps across South East
Snow this evening is causing problems for motorists across the South East.
All Eurostar services suspended because of the snow. Mike Pearse reports.
Tom Savvides reports on the chaos caused by the snow in Kent.
Advertisement
We have a round-up of the disruption to roads in Sussex, including aerial pictures.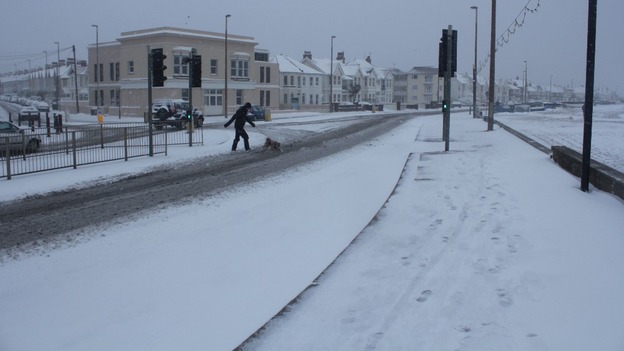 Meridian viewer Robin Jones sent us his pictures of snow in Worthing this morning.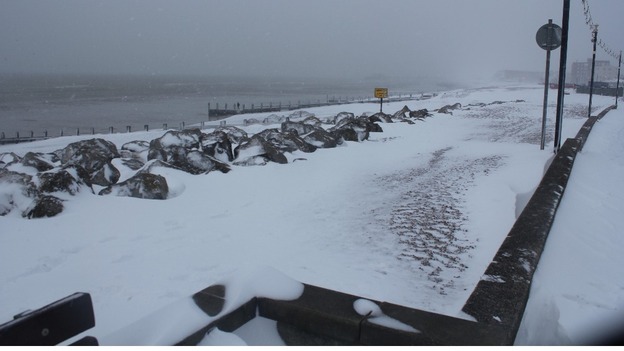 Sussex Police say that in the last 24 hours they have attended more than 300 collisions across the county.
Chief Inspector Phil Nicholas said: "The conditions meant there was a significant demand on our resources last night and we were stretched to capacity.
"Today is going to be about helping recover vehicles as many people fell asleep in their cars or abandoned them so even when the roads did become clearer they were still blocked by many vehicles.
"We will be assisting the Highways and other partner agencies to recover these vehicles. Although the conditions have inproved slightly, we are asking people to not make any journeys unless they are essential."
The A29 at Bury is still closed this morning.
The A23 is open and passable.
We know how difficult it has been for many people who felt stranded in their vehicles. We have been trying to get to as many as possible to offer reassurance, as well as deal with the problems on the roads caused by collisions and broken down vehicles.

The volume of snow and the drifting caused in exposed areas has been a major issue. As soon as roads were cleared and gritted, they were becoming covered in snow again.
– Acting Chief Inspector Kay Maynard, Kent Police
Advertisement
Kent Police said that more than a hundred people were stuck for more than four hours on the A2 at Lydden near Dover after a lorry jack-knifed.
Once the lorry was cleared from the countbound carriageway, snow drifts built up, in some places up to a metre high due to strong winds.
Kent Police have worked through the night to help stranded motorists on the county's roads and warned that drivers still have difficult journeys this morning.
Snow and ice brought problems across the county last night, but particularly in the Dover and Folkestone area, where gritting lorries and snow ploughs fought to keep the roads open.
The A2 is closed coastbound at Barham between Canterbury and Dover because of drifting snow
The M20 is passable coastbound at junticon 11a after a coach collided with the central reservation
The Channel Tunnel was closed at 9pm on Monday because of technical issues but was reopened at 3am but has caused queuing traffic on M20 back to junction 10 at Ashford
The London-bound M20 is running normally
A lorry has jackknifed on the A256 near Dover blocking both carriageways between the A2 roundabout and the junction with the Sandwich Road in Whitfield.
Around 120 German students spent last night in Hastings Town Hall, after the continuous snow through the day made many roads in the town impassable this evening. Hastings hosts thousands of language students throughout the year, and their stay is normally trouble free.
But when a large party from Senlac Tours arrived in ten coaches tonight from Berlin, Leipzig and Dresden, many local host families were unable to get to the coach pick-up point, leaving 120 students stranded in sub-zero temperatures.
With no local halls readily available, Hastings Borough Council opened the town hall with volunteer staff, who made tea and coffee for the tired and cold youngsters, who are now bedding down for the night.
I've seen the council chamber used for many things, but never this! But it's great that we've been able to step in and help, and I know the students, their teachers and the coach drivers really appreciate it."
– Kevin Boorman, Hastings Borough Council, Communications & Marketing
National
The Highways Agency has released a statement regarding the snow that has caused hundreds of drivers to be stranded on motorways in the south east.
Our roads have been treated throughout the day; however some lorries have jack-knifed causing closures at several locations and as a result our salt spreaders and recovery vehicles have become stuck in the traffic.
– Highways Agency
Load more updates
Back to top