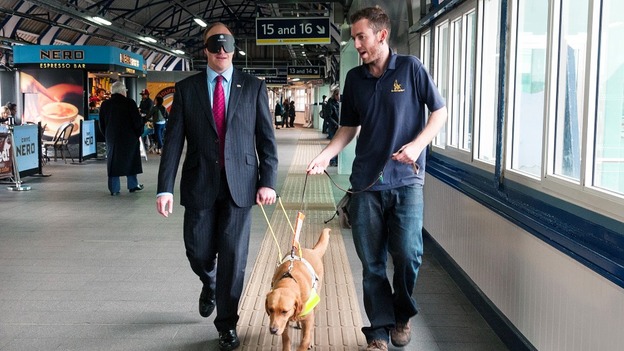 Blind and partially sighted rail passengers from the south who use Clapham Junction -Station - the busiest in Europe - will now benefit from the first ever guided path at a station to help them navigate the interchange.
It works using tactile paving and Braille which guides people to the correct platform and entrances.
To mark the completion of the project, Managing Director for the South West Trains-Network Rail Alliance, Tim Shoveller, took on the challenge of being blindfolded to try the new guided walkway with the assistance of a guide dog.
He was helped along by members of the Guide Dog Mobility Team from London, who promote guide dog services and campaigns across the London area including Clapham Junction.
Tim Shoveller said: "This is the first time a UK station has been equipped with a guided path. It is a welcome improvement and will make a real difference to many of our passengers".