Protests over animal exports
Dover Harbour Board has confirmed that the resumption of live animal exports has been given the go ahead.
Click video. Live animal exports have restarted at Dover despite previous attempts by the port to ban the trade. Report from Derek Johnson.
The National Farmers Union (NFU) has released a statement welcoming the resumption of live animal transport through the port of Dover today.
Following berthing trials of the MV Jolene, The Dover Harbour Board yesterday gave operator Barco de Vapor permission to run the service.
The union said the issue of animal transport "must be put into perspective. There is demand from Europe for both UK breeding livestock and animals destined for the food chain".
This is a perfectly legal, legitimate and valuable trade for English farmers. The MV Jolene will be sailing from Dover to Calais for a significantly shorter journey time, when compared with other ports, and this is a bonus for animal welfare.

Ideally we as an industry would like the ability to use the regular freight services from Dover which would mean a journey time of just an hour and a half and more frequent sailing.

Regulations are in place at a UK and EU level to ensure that all animal transport, including that going overseas, is not detrimental to animal health.
It is not in the commercial interests of anyone in the livestock trade to transport animals in a way that results in sick, injured or stressed animals.
– NFU South East spokesman Frank Langrish
Advertisement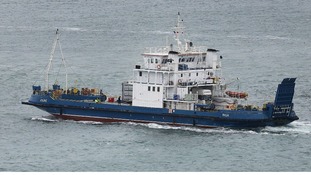 Protesters turned out as live animal exports resumed at the Port of Dover amid renewed calls for an end to the controversial trade.
Read the full story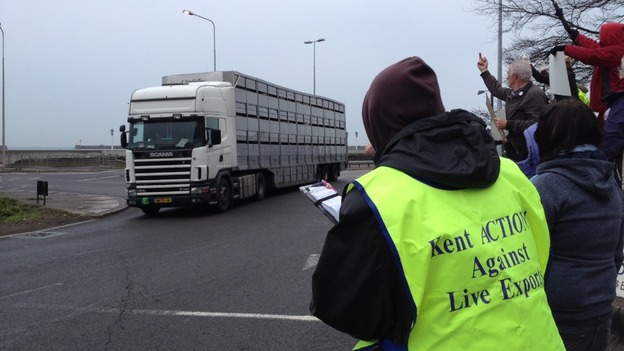 The first truck carrying sheep for live animal export arrives at Dover Port.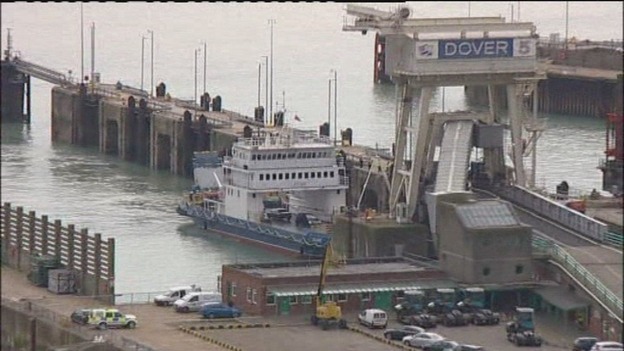 Dover Harbour Board has confirmed that the resumption of live animal exports have been given the go ahead.
It said that following two berthing trials the ship, the MV Joline, has been given permission to commence a ferry service from the Port's Eastern Docks.
The first service is due to happen on Thursday. It's unclear whether this will involve any live exports.
Back to top