Your weekend weather
After the miserable weather yesterday it'll be dry, bright and warmer for much of the bank holiday weekend as high pressure is in charge of our weather. The winds will pick up and it'll turn unsettled again from Monday evening.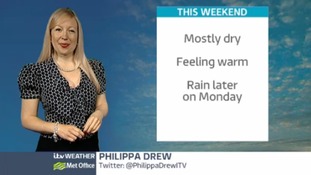 Philippa Drew has your latest forecast. The dry and sunny conditions continue before it turns unsettled again later on Monday.
Read the full story
Here's Luke Castiglione with Saturday's weather forecast. It's staying dry and bright today with lighter winds making it feel warmer than yesterday.
Advertisement
Back to top